If you are an avid scrapbooker you know how important good printers for scrapbookers are. We all don't want to run to the photo shop any time we want to print a picture. So the best idea is to get a printer for your home. A good one but without breaking the bank. Therefore here is, once again, a list of printers for 2018. You can find the best printers for scrapbookers for 2016 and 2017 here. These are wether printers I or my colleagues have or they are bestsellers on Amazon with great reviews:
Brother HL-3140CW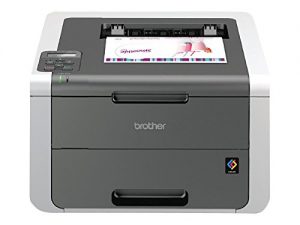 If you really want to get a new printer for whatever reason, the Brother HL-3140CW Digital Color Printer with Wireless Networking is an affordable option for you. Not only that it's loaded with hi-tech features like wireless networking and vivid color capability, this baby is also cost effective as it has a sleep mode feature that conserves energy when not being used. Aside from that, you have the option to load up high yield toners to lower the cost of your printing.
Check out Brother HL-3140CW Digital Color Printer here.
Dell (C1760NW) Color Laser Printer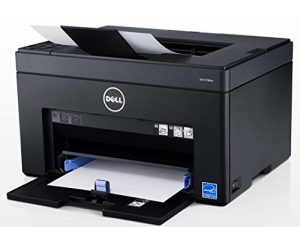 For the practical guys and gals out there Dell (C1760NW) Color Laser Printer might be the perfect fit for you. This printer can handle high-volume printing jobs as it can print up to 30,000 pages in 30 days. Designed with Dell Clear View LED Technology, you are sure to produce excellent print outs. It can be connected through Wi-Fi,LAN and USB. You'll get a maximum resolution of 600 dpi for both Black and White as well as color prints.
What do we like most from C1760NW? Well, you can directly print from your mobile device it even accepts multiple devices at the same time. If you really want the practicality of this printer, head on to this page.
HP Color B5L25A#BGJ LaserJet Enterprise M553dn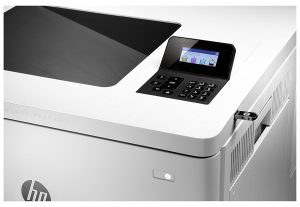 Looking for something fresh and new? HP Color B5L25A#BGJ LaserJet Enterprise M553dn with HP FutureSmart Firmware is worth a second look, if you will. Designed for business enterprise, this printer can print fast with a 40 pages per minute yield. In case you are concerned of your data privacy, this is one printer that thinks about protecting sensitive information by offering a solid security feature. In terms of productivity, you can be sure that this printer is reliable when printing large volume. It can accommodate as much as 650 sheets in its feeder with an average of 6,000 pages per month.
This is one intelligent printer that you should consider checking out.
HP Envy 4500 Wireless All-in-One Color Photo Printer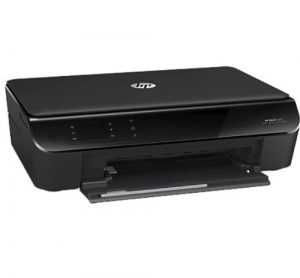 HP Envy 4500 Wireless All-in-One Color Photo Printer is the answer for those who look for a no-frill deal. Priced to be affordable especially for those who love to print borderless photos. This all in one gadget can scan and directly link up the digital copy to email in a breeze, not to mention that wireless printing is as easy as connecting to the Wi-Fi.
Multi-page printing is also supported as this printer has an auto 2-sided printing mode that you can leave the hard work of turning page after page behind. It also supports a maximum paper size of 8.5 inches x 14 inches not to mention that its input tray can feed up to 100 sheets in one go.
Have a closer look at HP Envy 4500 here.
Dell C2660dn 27PPM 600DPI Color Laser Printer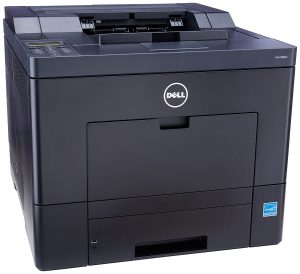 Our next printer focuses on speed, no other than Dell C2660dn 27PPM 600DPI Color Laser Printer. For those who value efficiency and reliability, this printer tops the ranks as it offers an impressive speed of 28 pages per minute for both high quality color as well as sharp mono prints. Specially designed to cope with high volume yield demand, it guarantees a duty cycle of up to 50k pages in a month. On top of all that, the cost of printing is definitely less because of the toners' capacity.
Power-saving feature also reduces energy consumption where the printer goes into sleep mode if it's not being used. This printer definitely stands out among its turf.
Find out how Dell C2660dn Color Laser Printer can give value for your money here.
Epson Expression ET-2750 EcoTank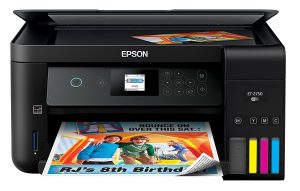 Epson Expression ET-2750 EcoTank Wireless Color All-in-One Supertank Printer is the answer for those who want to experience cartridge free printing. Yes, this printer is one for the books as it promises its users zero problem with cartridge replacement as it comes with 2 year supply of ink equivalent to 30 ink cartridges. When the time comes that you need to buy inks, you only have to buy refill bottles that are super easy to use. Since there are no added cost for the cartridges, you can save a lot on purchases of consumables with this printer.
You also need not worry about the quality of print outs since all inks as long as you get the original from Epson are guaranteed to be of the same quality as the ones being used for the cartridges.
Learn more about Epson Expression ET-2750 EcoTank here.
Canon Color imageCLASS MF634Cdw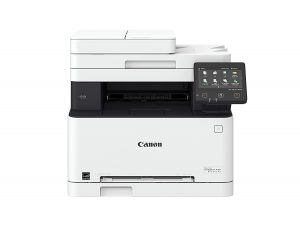 No printer buyers guide would be complete without the Canon Color imageCLASS MF634Cdw – All-in-One, Wireless, Duplex Laser Printer. What's very unique about this printer is its Duplex capability. Scanning both front and back side of your document in one pass was just wishful thinking back in the days because Canon's duplex scan keeps up with all the printing technology demands.
Ultimately, you can save a considerable amount of time and effort whenever you have to scan both sides of a document. In addition to that, you can directly connect your devices to this printer even if you do not have a router.
Not only you are getting the convenience of the technology brought about by this printer, you also get professional print outs that are vibrant and sharp. Users also have the option to use high capacity toners which minimizes the hassle of replacing cartridges as often.
To know more about Canon Color imageCLASS MF634Cdw, visit this page.
Epson WorkForce WF-2660 All-In-One
If you spend a lot of time printing for personal or business, you'd definitely would want to consider Epson WorkForce WF-2660 All-In-One Wireless Color Printer with Scanner, Copier and Fax. Being positioned as the ultimate alternative to laser printers, the WorkForce WF-2660, powered by Precision Core can deliver crisp and laser quality print outs without sacrificing speed in printing. Designed to eliminate paper jams, you can feed up to 30 pages in the auto feeder and it even prints 2 sided. It has a 2.7" Color Touchsreen that responds well in customizing your preferred settings.
This printer works well in both Windows and Mac. For more details, click here.
Okidata 62447501 C332dn Digital Color Printer
If you are not so much of a brand conscious type, you might want to give Okidata 62447501 C332dn Digital Color Printer a try. From a not so popular brand, OKI, this printer promises to deliver quality printing services for individuals and offices. It uses HD Color LED printing technology that comes with multi-level output quality. Being one of the simplest and uncomplicated printer in the market, the printer is very easy to manage and navigate as it uses simple one touch command for copying and scanning.
Why not try and see more of Okidata 62447501 C332dn Digital Color Printer here.
Epson Expression Photo XP-8500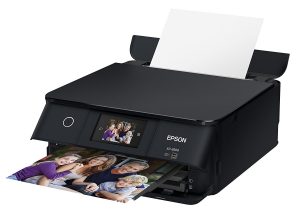 When you want a multi-function printer but you have limited space in your workforce area, Epson Expression Photo XP-8500 Wireless Color Photo Printer with Scanner and Copier might be a good choice for you. Being of the ultra powerful lineup in the small all in one category, this printer not only gives professional quality outputs but also performs quietly and fast.
What is more appealing for this printer is that you can print without any need of a computer as this comes with a direct USB port where you can plug in your devices. For those who are into customized printing, you can even use this printer for printing over DVDs and CDs. Users also need not to worry about the cost of consumables since this printer has individual ink systems which only requires replacement for the empty cartridge.
There you have it dear folks, we've just shared our printer finds that just might give you a better heads-up before you start buying that dream printer. Here's to a worry-free printing this 2018!
*This page contains affiliate links which allow us to earn a small commission if you purchase through our link. However, this is at no cost for you and of course doesn't influence our opinion on the presented products.
MerkenMerkenMerkenMerken
MerkenMerken
MerkenMerken
MerkenMerken
MerkenMerkenMerkenMerken
MerkenMerken