Let's face it, mason jars have made a big comeback. They are obviously versatile yet inexpensive. You can even choose different sizes and shapes for whatever need you have. To make your jars look more nice and neat, we've come up with tis printable Jar Labels made from digital scrapbook materials. In this project, we have downloaded the Scrapbooking Megakit In the Kitchen from Digidesignresort.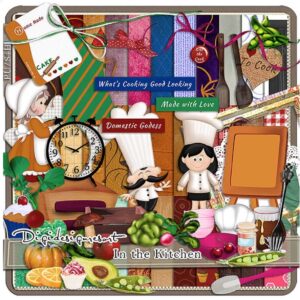 Before proceeding, you have to get first the Jar Label Template which we have prepared for our members.
Once you have it, open it in GIMP.
Now for each of the label, you can use different paper or you can select one design and use different embellishment. Here, we got this nice paper and opened it as a layer.
Make the template layer active and make sure that it is on the top most from the layers. Get the Magic Wand Tool and click on the first Circle on the uppermost left corner.
This time, make the paper layer active and right click on it. Select Add Layer mask and choose "Selection".
Your first lid is now ready to be decorated! Let's put a carrot on the centre of the lid.
You can add some messages or any text and you're done.
Repeat the same procedure to the rest of the circles or until you have the number of labels you need.
Print the labels in sticker paper (if possible)
and then cut out around the edges.
Stick it on the lid or even on the jar itself, it doesn't matter.
You can use this for give-aways or during parties or even for your own kitchen use.
Like this? Get into the store and grab your copy of In the Kitchen!