You can now set aside your usual party straws because we have a new decor that you can whip up just a few hours before your actual party with a printable digital scrapbooking kit, a printer and some paper. Yes, this is pretty easy to do that you can finish even a set of sippy straws in a little time. All you need is a bunch of elements and you're almost there!
There's no need for any template here but only the elements that you have from any of your scrapbooking kits. You can choose by theme or color or just about anything. The best part is that you can always mix and match to your party theme – no matter if it is a birthday party or simply a family get together you'll have the perfect party decoration. Of course you don't need to stop with decorating your drinking straw. You can make nearly everything from your printable digital scrapbooking kits for your party table.
Printable Digital Scrapbooking Kit: Vintage Magic
For this tutorial we used the elements from digidesignresort's Vintage Magic Scrapbooking Kit collection.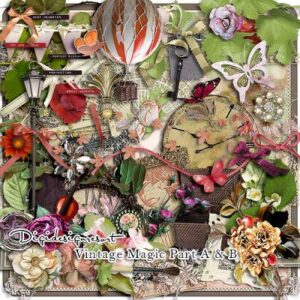 Here's what you should do, open GIMP and create a new file with a canvass size of 8.5 inches by 11 inches.
Open as a layer the first element you would like to use.
Adjust the size of the element in such a way that it is proportionate to the size of your straw.
You can use the Scale Tool for that.
Usually anything between 1 to 2 inches is acceptable.
Move your element layer to the left side to accommodate more.
Repeat this process until you have enough elements for the drinking straws.
Print it out in a board and then cut around the edges. You can leave out a tiny allowance for the border.
Put a scotch tape on the straw and wrap the cut outs on the other side.
Do the same to the rest of the straws and you are ready to party!
Liked our Fall Printable?