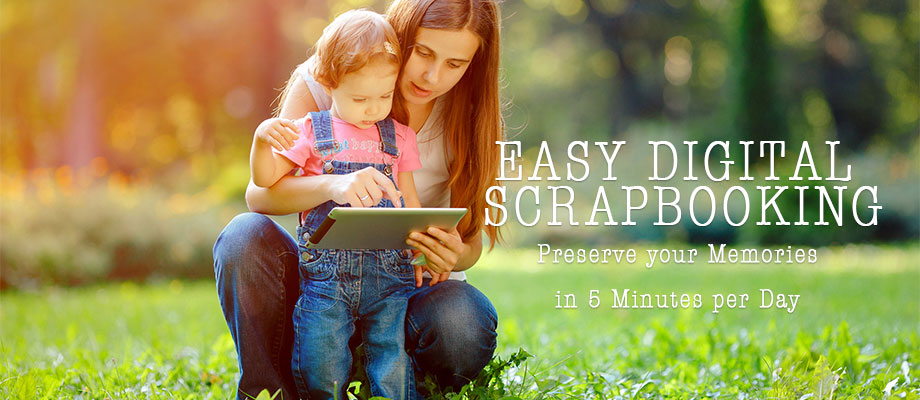 Have you ever been resistant to try scrapbooking? You don't like the mess, you don't like to store papers and supplies in your home because they can take up a huge amount of space? You don't want to play with glue and scissors but you want some traditional looking scrapbooking pages?
Then here comes your solution!
Easy Digital Scrapbooking to Preserve your Family's Memories in no more than 5 Minutes
We have put together a fabulous video course which shows you quick, easily and straight to the point how to use the Project Life App by Becky Higgins. We show you how you can create digital scrapbooking pages and projects in just a few minutes and how you can create your very own cards from any digital scrapbooking kit you already have – fast, easy and without all the hassle.
Learn in 13 Lectures:
The Four Different Areas of the Project Life App
Foto Collage
How to Create your First Scrapbook
How to Edit your Images in the App
How to Choose the right Picture Detail
Why You should add Title and Filler Cards
Why You should Use the Text Tool
How to Save, Share & Export your Scrapbooks correctly
How to Add your own Digital Scrapbooking Cards to the Library
How to Create Filler Cards
How to Create Last Page Cards
How to Create Title Cards
How to Create Journaling Cards
We show you all the tips and tricks, not just the simple functions. Do not start this journey without knowing in depth how to use the Project Life App quickly and easily for your needs. Once learned you can start your journey of creating digital scrapbooking pages in no time. With our course, you even learn how to add any kind of cards to your Project Life App – you can create them yourself and include them into your scrapbooks from any kind of Scrapbooking Kits!
Imagine how cool it will be to have a year worth of material for your photo book ready as a Christmas Gift for someone really special!