Remember all the cool Children's Books our parents read to us when we were kids? At that time, we didn't have iPads or tablets. We spent our free time playing outdoor games and when we stay at home, we often read books most especially at bedtime just before hitting the sack. Now, we've taken it upon ourselves to help you look for some great reads for your little ones. Here's a compilation of our bet for the Best Children's Books of 2014 so you'll have no excuse not to go back to the traditional reading ritual that we used to practice at home when we were young.
1. The Pigeon Needs a Bath! – by Mo Willems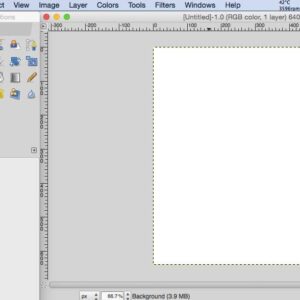 From one of the most liked Children's Book writer and animator, Mo Willems, comes another addition to his Pigeon Book Series, The Pigeon Needs a Bath! (I Do Not!). Known for his hilarious style, Willems once again captures the attention of his little readers with the laughable antics of the pigeon in his attempt to shun away from taking a bath. Even though his stinking smell starts to reveal how long it has been since he has last taken a bath, the pigeon is in denial and puts every possible excuse to avoid doing it. With the book's signature uncomplicated illustration, children will definitely enjoy looking at the pages and feel every mood throughout the whole story. This is a great reading for toddlers and children who are just starting out to enjoy their own independent judgement.
2. The Fourteenth Goldfish – by Jennifer L. Holm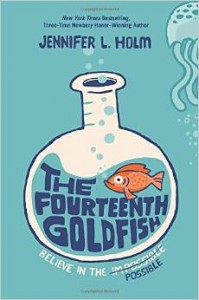 Is your kid fascinated with Sci-Fi adventures? Well, The Fourteenth Goldfish is a sure way to introduce true to life lessons in a fictional tale that captures the interest of children in their pre-teens. Ellie Cruz, the main character in the story, is an eleven year old girl who is in the middle of a pre-adolescent dilemma as she tries to cope with the changes in her life since she entered the sixth grade. One of the biggest surprise in her life comes in the form of Melvin, the 13 year old boy who happens to be her very own grandfather. Melvin, a scientist, was able to bring back himself to age 13 again and mingle with his family in that state. This gave both Melvin and Ellie the opportunity to get know each other more. With the help of Melvin, Ellie discovered her fascination with science and learned valuable lessons along the way.
3. The Heroes of Olympus Book Five: The Blood of Olympus – by Rick Riordan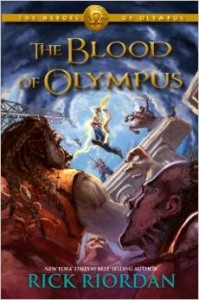 The Blood of Olympus is actually the fifth instalment to the Heroes of Olympus Book series. Rick Riordan gave a new flavour to Mythology through the adventures that the lead characters Jason, Piper, Annabeth, Percy, Frank, Leo, Hazel, Nico, and Reyna had to go through. Since this is supposed to be the final book in the series, expect more surprise revelations, challenges and magnificent battles that they must triumph over. This is a good book to prepare children in reading more complex literature with similar mythology genre and even epic poems such as The Illiad and The Odyssey. Just keep in mind that the target age group for this book should be around 10-14 years old, so there might be a little need for parental advice on sensitive topics such as war and destruction.
4. The Book with No Pictures – by B.J. Novak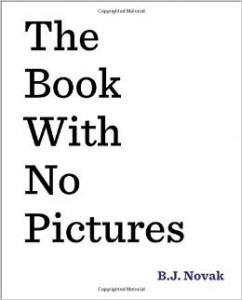 Here's a clever way to entice your children to read books. In The Book with No Pictures, B.J. Novak teaches young readers to appreciate a literary material even without the usual images or illustrations that they have gotten used to. What makes this book interesting is the way its reader should read it, that is, aloud – for everyone to hear. So, parents, be prepared to utter funny words and phrases when you are reading this to your children. If we are to choose the book that promotes the most of interactive learning, this is it! The technique of having enjoyable reading sessions with children makes these moments something to be treasured and cherished even after you've read it to your kids 99 times.
5. I am Albert Einstein (Ordinary People Change World) – by Brad Meltzer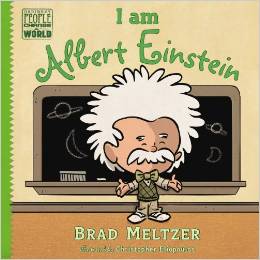 Boost your child's confidence to conquer the world as early as he can with I am Albert Einstein (Ordinary People Change World). Take a walk down memory lane with Albert Einstein's life story beginning when he was a child. Curious as he is, Einstein started to ask questions about the things that surround him including the universe. His being unique and distinct from other kids did not stop him from doing the things he love. Though he did not always excel in school like a straight A student, he still managed to contribute something to the society and nevertheless, regarded as a genius. The sketches on the book makes it easier for younger children to understand when some scientific stuffs are being talked about in the book. Just a word of warning though, the book does not attempt to provide an exhaustive account of Einstein's biography so do not expect in-depth facts and figures.
6. Tuesday Tucks Me In: The Loyal Bond between a Soldier and His Service Dog — by Luis Carlos Montalván (Author), Bret Witter (Author), Dan Dion (Photographer)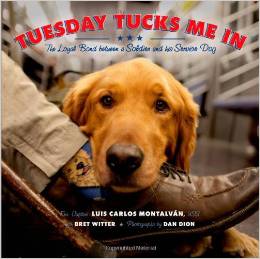 Animals, dogs especially, will always have a soft spot in a kid's heart. This story is definitely poignant, one that teaches how a dog and a man can develop a friendship that can sometimes be considered as life changing. Tuesday, a Golden Retriever service dog helps Montalván (a soldier) recover from the trauma out of performing his duty in war torn Iraq. The book includes photographs taken by Dan Dion, just as if the readers are following the characters in a reality show. Aside from emphasizing love for country and respect for soldiers, children will understand empathy, warmth and happiness brought about by having a dog for a best friend.
7. Uni the Unicorn – by Amy Krouse Rosenthal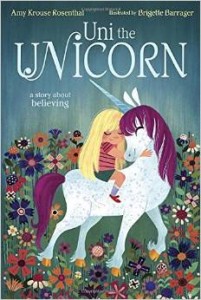 Being a seasoned author for children's book, Amy Krouse Rosenthal has for another time captured the imagination of the child in all of us. In Uni the Unicorn, the real world is made up of unicorns and that human beings, like little girls are just fragments of imagination. The lead character, Uni, is a unicorn who believes that little girls do exist and dreams of finding and having a little girl for a best friend. This is in spite of being laughed at by her family and friends for such belief. Ultimately, the book teaches children to dream, believe and have faith in themselves. Children will enjoy the book even by just looking at the easy on the eye drawings of Brigitte Barrager.
8. Nest – by Esther Ehrlich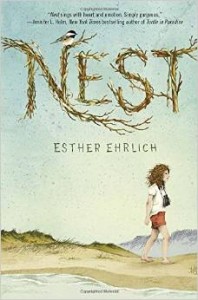 When children are faced with family problem, what really goes through their mind? In a perfect world, everything is pristine and blissful, but in this story of Naomi "Chirp" Orenstein, a lively 11 year old girl, her perfect world is slowly crumbling before her very eyes. When Chirp's mother was diagnosed with a debilitating disease (Multiple Sclerosis), everything about her life changed. As her mother slipped through depression, her father struggled to cope with the drawbacks which left Chirp and her sister to fend for themselves. Throughout the story, Chirp is a picture of a typical lost girl who struggles to find her own self in the midst of a family crisis. It is recommended for parents to preview the book as it tackles sensitive issues like depression, child abuse and suicide, to name a few. While the book opens a new perspective on the reality of life, caution must be given by guiding young readers as to how they can carry on when faced with problems that they have no control over. With deep insights and life lessons, this literary piece is not only for children but also for parents as well.
9. Star Stuff: Carl Sagan and the Mysteries of the Cosmos – by Stephanie Roth Sisson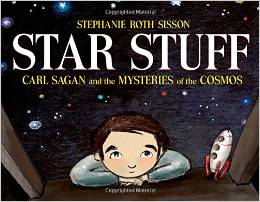 Stephanie Roth Sisson has hit the spot on in this wonderfully illustrated book about Carl Sagan and his deep interest on the universe and the solar system. Well known for his contribution to humankind as an astronomer and cosmologist, Carl Sagan's life account serves as an inspiration to children who are also into science. The addition of some bits and pieces of knowledge on the mysteries of the cosmos makes reading more fun and informative to those who are at the preschool group. Children will be able to relate their own questions as to what Carl was thinking when he was about their age. Any parent with a curious kid will be equally happy to have a copy of this book.
10. Ivan: The Remarkable True Story of the Shopping Mall Gorilla – by by Katherine Applegate (Author), Mr. G. Brian Karas (Illustrator)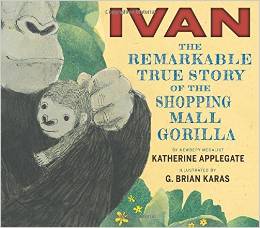 Ivan, the lovable gorilla in the 2012 book The One and Only Ivan, comes back in this picture-book. His story is re-told to suit the minds of the young readers. After being captured in the wild, Ivan was brought to Washington, USA and was given a new home with a human family. His stay in his new home though was just short-lived as when he became too big to be taken cared of, Ivan was sent to a shopping mall where he was locked in a cage while serving as the main attraction for its customers. People would watch how Ivan spends his day playing, eating and sleeping. Soon enough the public has taken notice of Ivan's un-natural habitat that elicited outcry to help Ivan live in a more suitable environment. The story teaches children about compassion and care for animals in the wild. With accompanying illustrations by Brian Karas, this endearing book will surely touch the hearts of your little ones.
Well, it doesn't take much to start the reading habit in children. Take whatever you can afford if money is an issue, but invest more on spending time reading with them. Let this list be start of your child's journey to reading this 2015!