Students are gearing up to get back to school and the usual mornings will again be filled with wonders of what to wear and how to wear their hair. If you are tired of the common ponytails, braids, and buns, here are simple but creative hairstyles you could whip up in the morning. You don't need special hair tools for these. All you need are rubber bands or scrunchies and some pins.
Back to School Hairstyles
The Fish Tail braid is much easier than the traditional braid because you only have to divide hair into two sections. Holding both sections in each hand, use your index fingers to grab a few strands from the side to cross alternatively with the other side. After securing the end with a rubber band, loosen the edges to make it look like a fish's tail.
Why is it an ideal Back to School Hairstyle? It is easy to do and it is meant to look a little unkempt. Therefore, you won't have to be frantic in the morning that you might miss the school bus simply for doing a braid on your hair.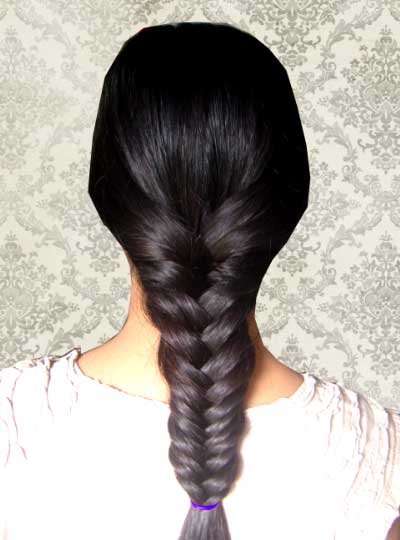 A simple bun is a fail-proof hairstyle for almost anyone. This particular bun can be done even if your hair is slightly above your shoulders. First, tie your hair into a ponytail. Above where your rubber band is, make a hole by putting your finger in the middle from under the ponytail. If your rubber band becomes loose, that is fine. Grab the middle of your ponytail and insert it into the hole until it forms a bouncing bun. Pull the hair slightly to tighten the rubber band again and to secure the hair you inserted. Secure loose hair with pins.
Why is it an ideal back-to-school hairstyle? This bun can be done on almost any hair length. It is very simple to do and you don't need pins to secure the bun itself. Also, it is a hairstyle appropriate for all women of all ages.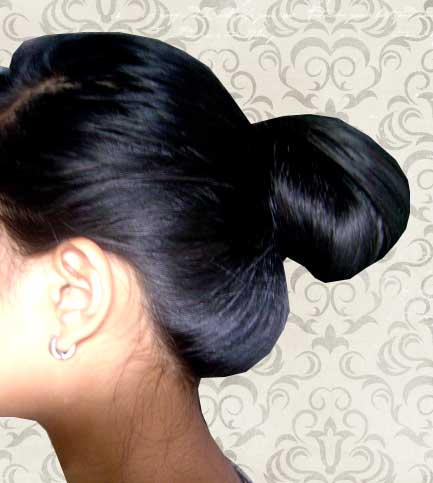 Here is another type of bun but with a twist. This may take more time to make compared to the first two hairstyles featured here. First, make a three-section ponytail (as shown on the first photo). Starting from the bottom ponytail, merge it to the one above it until you all three are turned into one ponytail. Twist the ponytail around until it becomes a bun. Secure with a pin or two.
Why is it an ideal back-to-school hairstyle? It pulls all hair away from the face, so there will be no distractions during class. It is a hip version of the traditional bun, so adolescents can wear it without worrying that they might look uncool.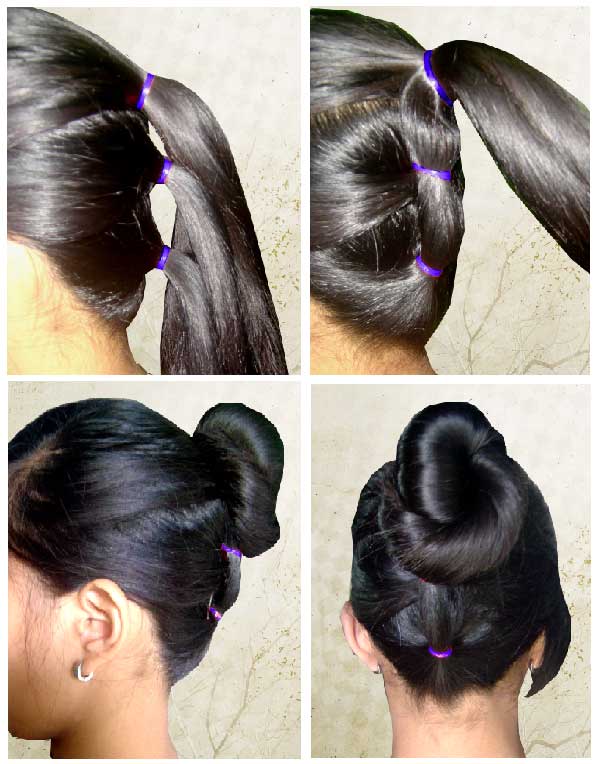 There are many other simple hairstyles you can do for yourself, your daughter, or your grand-daughter, before they go to school. The important thing is that it feels comfortable, it does not distract students, and that it looks oh so good!
Are there any hairstyles you would like to share? Please comment below. We'd love to hear from you!
And don't forget: Take a picture of your awesome new hairstyle and scrap it 😀