What is Chutney?
Chutney is a delicacy from the Indian kitchen. It can be sweet-sour but also spicy-hot. Mostly you use when you create a Chutney vegetables or fruits. Those will be cut, cooked, then spiced with flavourings and refined with different ingredients.
Chutneys go well with fried meat, wild animals, fish and cold meat or cheese. They fit perfectly to indian rice and veggie dishes.
Peach Chutney with Cognac
Author:
Prep time:
Total time:
Chutney is a special mix with fruits, veggies and different spices.
Ingredients
4 empty glasses with 200 ml each
1 kg peaches
2 cl cognac
1 onion
3 dried chillies
100 ml white wine vinegar
100 ml orange juice
a bit citron juice
200 g sugar
50 g jam sugar
1 teaspoon mustard seeds
1 teaspoon curcuma
Instructions
Cut in the peaches on all sides and put them into boiling water. After ten minutes take the peaches out of the hot water and peel off the paring.
Take out the pit of the peaches.
Now put the sugar into a pot and toss it to caramelise it. Now add the peaches, cook all on with just a little bit of heat.
Then cut the onions in small pieces and add them together with the white vine vinegar and the citron juice. Add the dried chillies and let it all cook.
After 15 minutes add the curcuma, jam sugar and mustard seeds.
Start cooking it again, turn off the oven and wait for 2 minutes before you add the cognac.
Fill the Peach Chutney into clean glasses you have washed out with hot water.
Turn the glasses upside down for 15 minutes.
1. Take 1 kg of peaches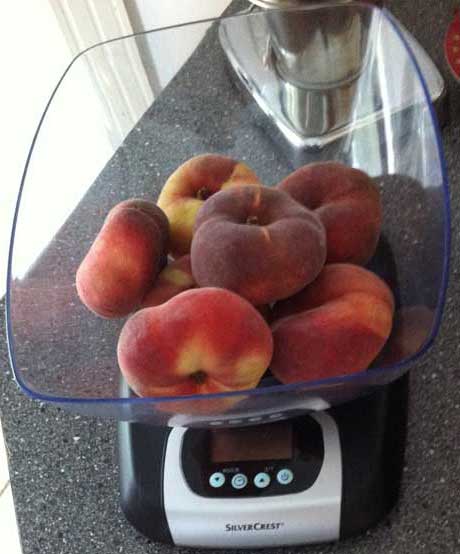 2. Boil the peaches with the ingredients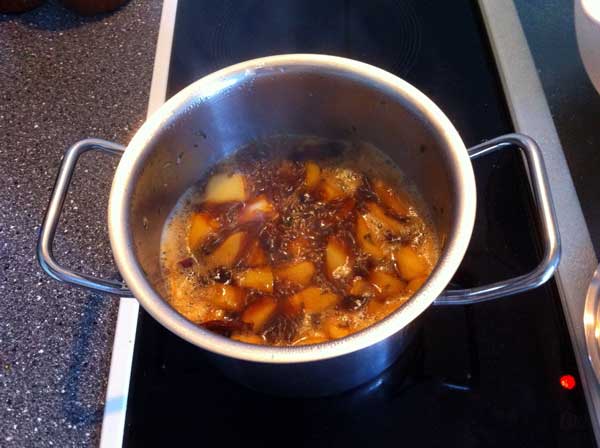 3. Fill the ready-cooked Chutney into the glasses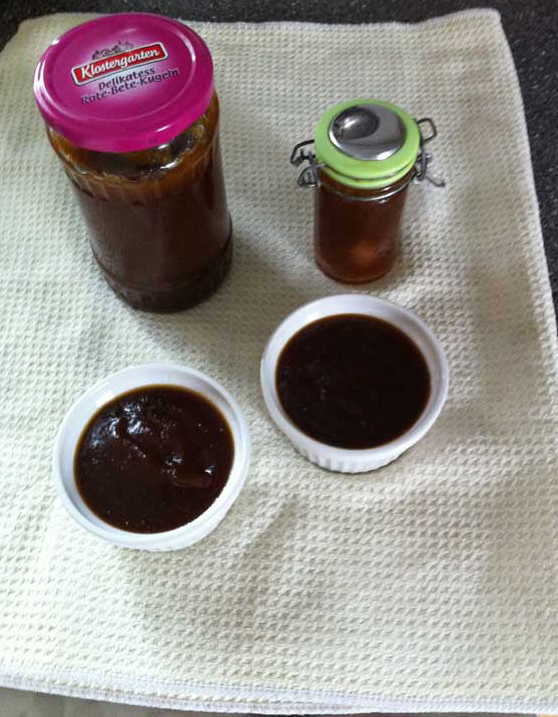 Enjoy the Peach Chutney!