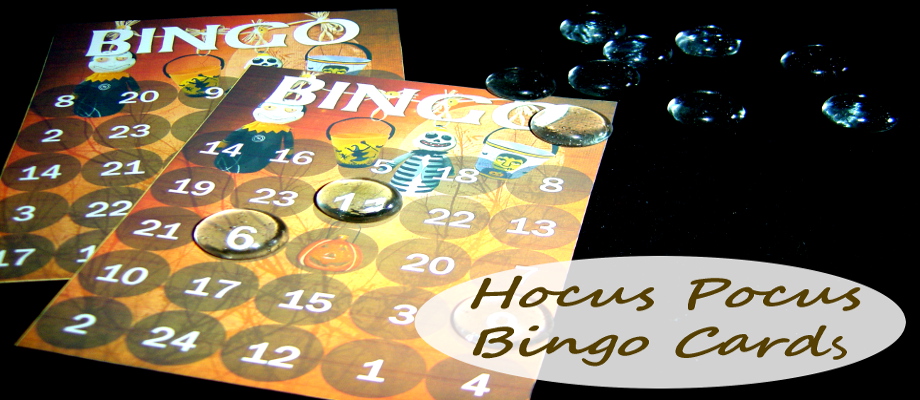 Halloween is a great time to do fun activities with your family and friends. Whether you opt for small or large print bingo card prints, these Halloween versions are just what you need. These cards can be made with custom design, color, and size with some digital scrapbooking kits and GIMP.
Open GIMP. Create a new 8.5 x 11 image in portrait form.
You can increase each image by clicking on it so you can easily see all settings used.
Go to View and put a check mark beside Show Grid and Snap to Grid. Go to Image and click on Configure Grid. Make sure to click on the chain link (encircled below) to break it, then set the width to 4.250 inches and height to 5.500 inches.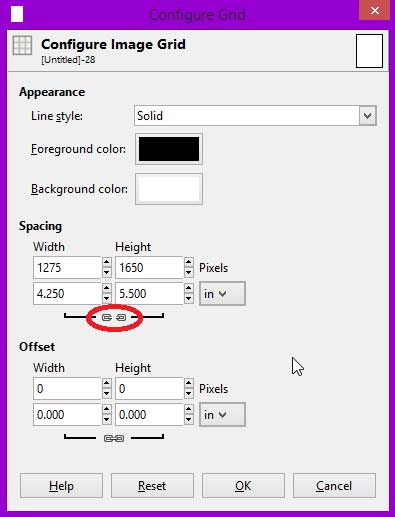 Go to File and Open, then open the background you want to use. I used a background from the Hocus Pocus kit from Digidesignresort.com. Go to Image and click on Scale Image. Resize it to 4.250 x 5.500 inches.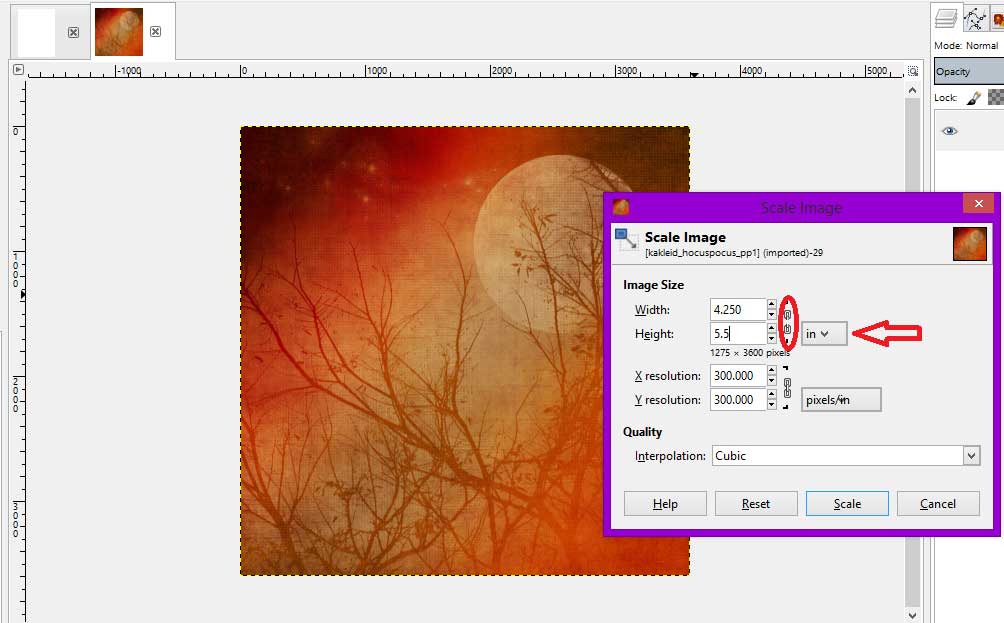 Copy the resized image and paste it on the four sections of your blank image.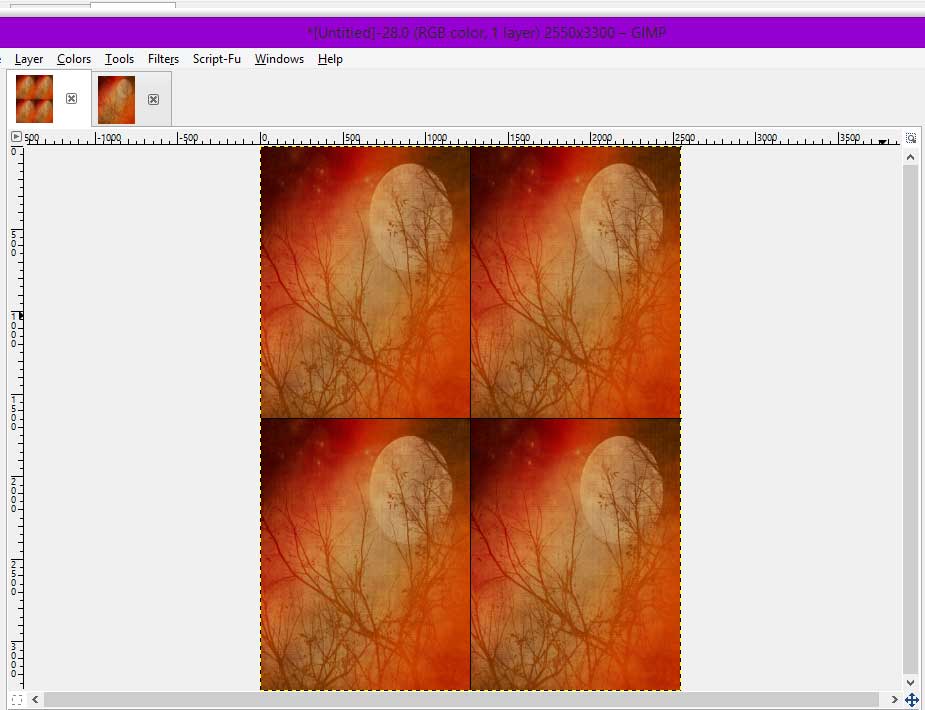 Using the Rectangle Select tool, select the first section. Swap the FG and BG colors so that white is now on top of black. Go to Edit and click on Stroke Selection. Change line width to 6.0 and click OK. Do this on all four sections.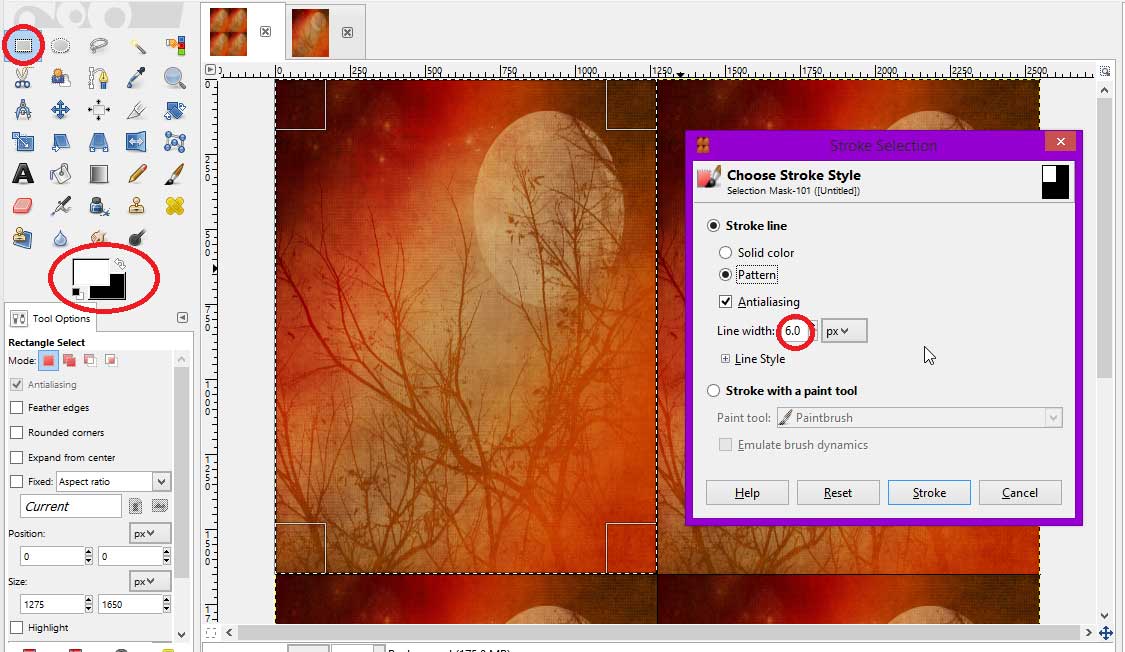 Go to Image then Configure Grid. Change the setting to 0.850 x 0.780 inch.
Create a new transparent layer. Click on the Ellipse Select tool and change the FG and BG back to black on top and white underneath. Create circles in each square, starting on the third from the top. After each circle, fill it with black using the Bucket Fill tool. There should be 25 circles for all the bingo numbers in one section.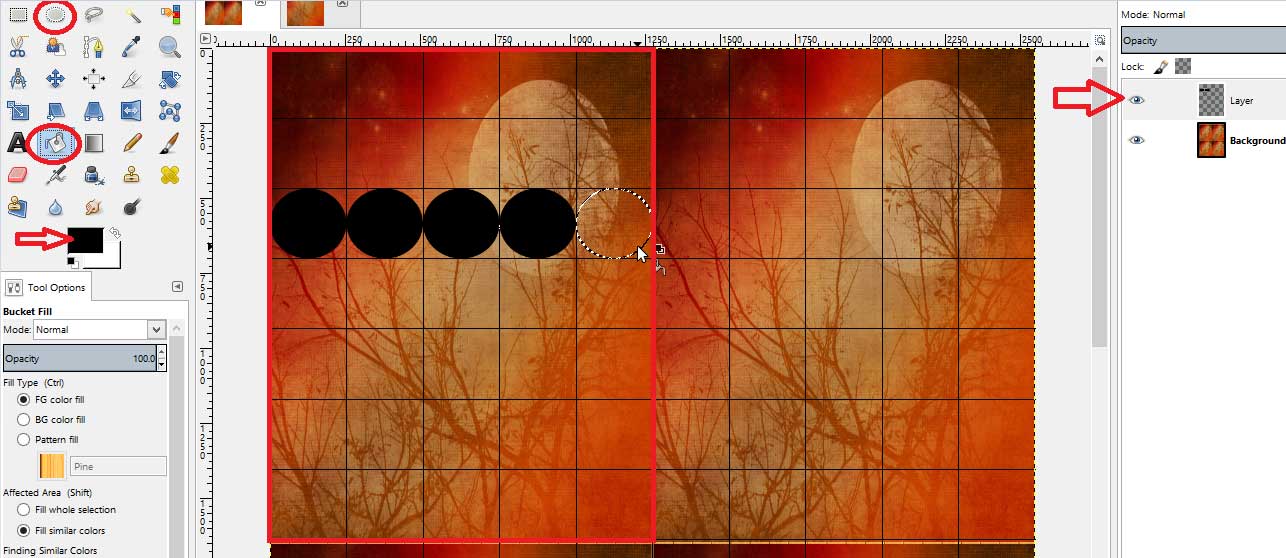 Copy all the circles of the first section using the Rectangle Select tool and paste it on the other three sections. Then lower the Opacity of that layer to around 45.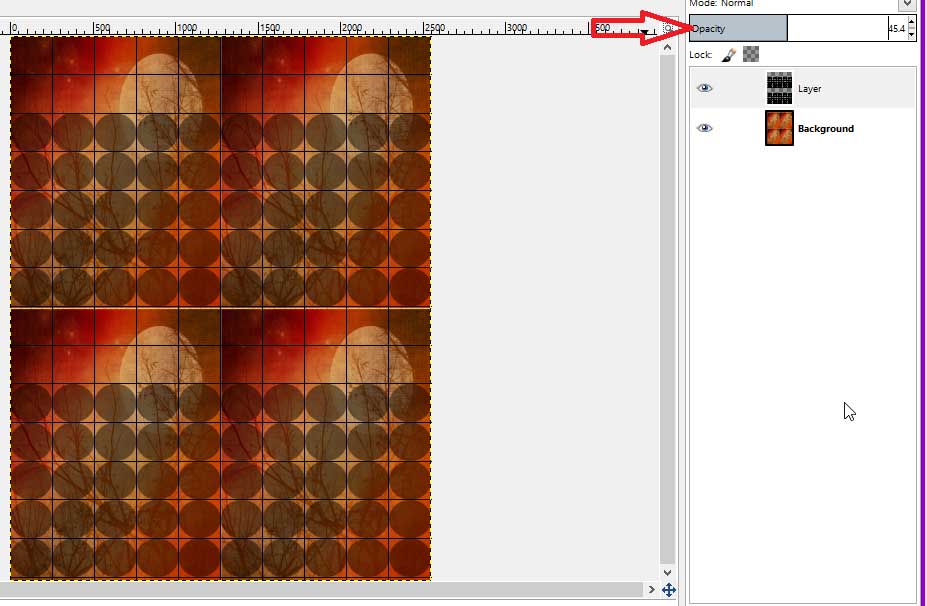 Add the words BINGO at the top using your desired font, color, and size with the Text tool.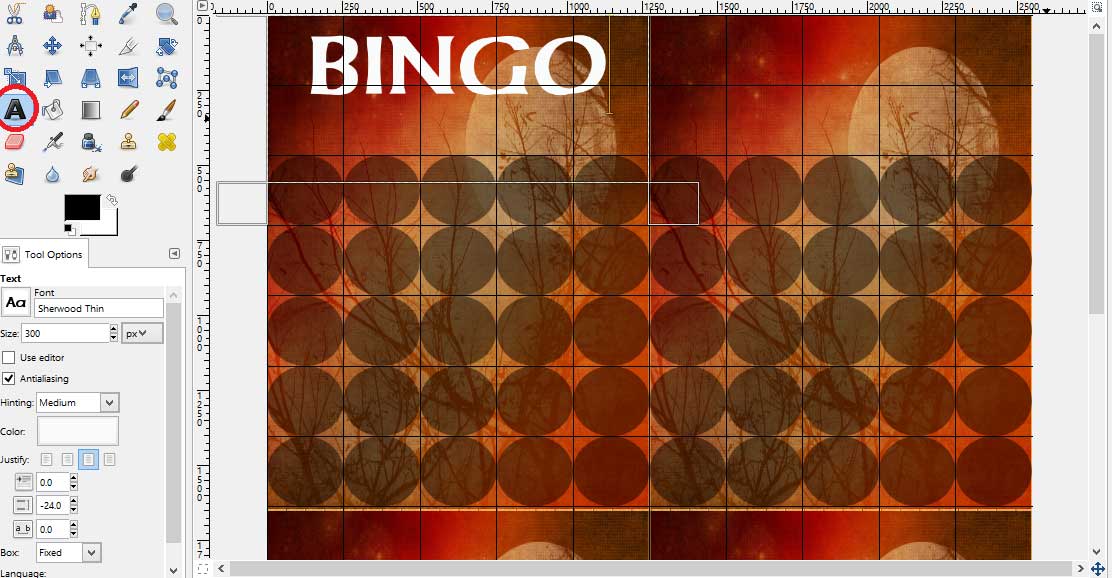 Add your embellishments and accents to give it character. Then go to Image and Merge Visible Layers when you are done decorating.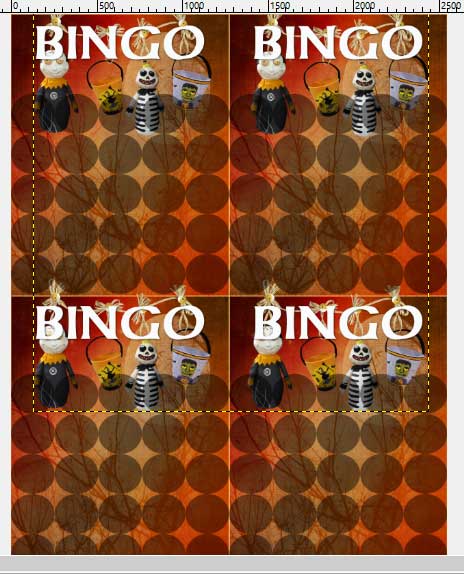 Click on the Text tool to add the numbers on the cards. Certain numbers go under specific letters of the BINGO columns so it would be wise to check online for a bingo card guide.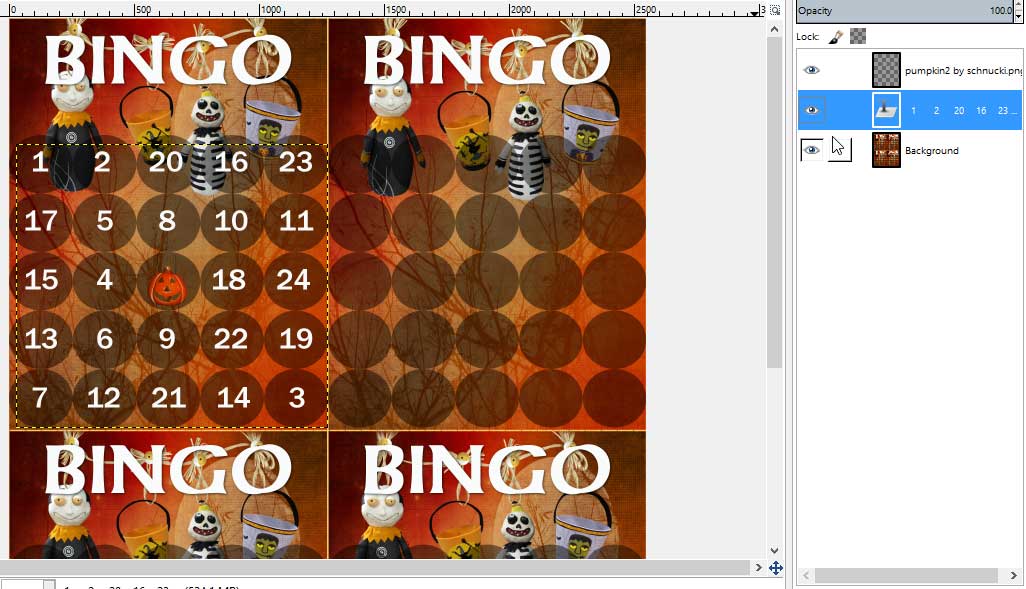 Save your work and get them ready for printing. You can choose to make them in small or large print bingo card form, whichever you prefer. Once printed, cut out the edges and the four sections.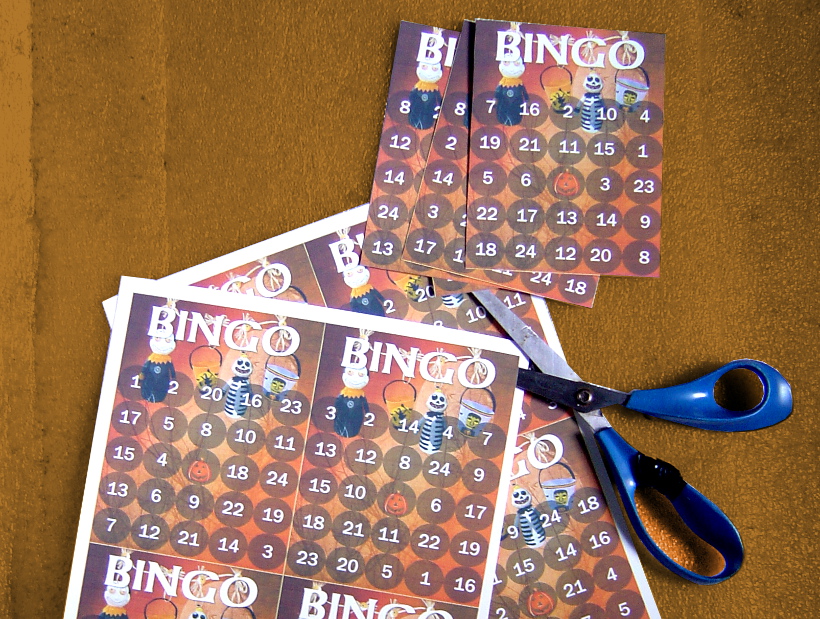 Your Hocus Pocus bingo cards are now ready for use! Have fun!
Like this Bingo Cards?
You can make them yourself with this lovely kit!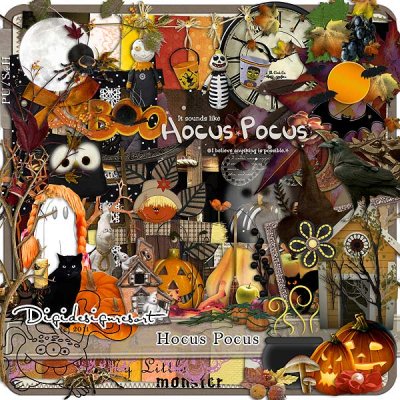 If you want the Bingo Cards we have added here please join our Scrapper Club for an incredible low monthly price (you can cancel at any time and you have a 30 days money back guarantee).