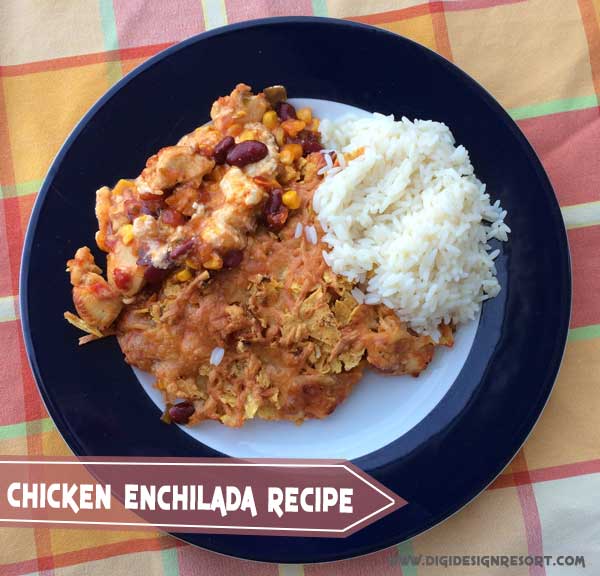 Me and cooking that normally does not fit together very well. I don't like it much but I totally enjoy a good dinner. So you see the problem 😉 Yesterday I tried a new recipe I want to share with you because it totally fits into my cooking style – fast and easy. This is really yummy!!! I've just had rice at home and no enchiladas so I put that to the Chicken Enchilada Recipe but you can of course use an Enchilada. I think the sour cream added to the Chicken Enchilada Recipe is the special thing. Mixed with the Salsa it tastes really good.
I had these Chicken Enchilda Recipe last night while sitting outside and enjoying a nice evening outside. It is perfect for summer but also when you want to serve something special to your guests.
Enjoy!
Southwest Chicken Enchiladas
Author:
Prep time:
Cook time:
Total time:
These Chicken Enchiladas are perfect for Parties or for a nice evening outside in the garden.
Ingredients
Chicken, 600g
Tortillas
Sour Cream
Salsa
Corn
Black Beans
Cheese
Instructions
Cut the chicken in small pieces and fry them. Put everything into a casserole and add Salsa, Corn, Black Beans and Sour Cream. Mix them together.
Crumble the Tortillas and put them on top of the mix. Add cheese.
Bake everything for 30 Minutes in the oven.
Put the Mix on an Enchilada and enjoy. You can also serve it with rice – yummie!
Just click on the print button to print this recipe. But make sure you put it on one of our recipe cards. It will be your favourite recipe!
I created a recipe card for you – go to the store and grab it. You can print it out (it's a PDF) and just put down the recipe.