To keep your children's school stuff secure and identifiable, you can create personalized school labels using GIMP 2 and some digital scrapbooking kits.
Personalized School Labels
Open the scrapbooking items you wish to use. Here, I chose some adorable pink elements and a polka dot paper from the It's a Girl's World kit, which is available from Digidesignresort.com.
You can increase each image by clicking on it so you can easily see all settings used.
It is important to scale down digital papers to make it appropriate even for small projects.
Go to Image > Scale Image.
Create a new blank image in another tab. Set the size to a standard 8.5 x 11 inches.
Cut a piece of your paper to a shape you want for your label.
Paste it on your blank image.
I chose to pair these pink elements with a light green color.
Tip: set your FG and BG colors to the two most used colors to make it easier to switch them when necessary.
You can decorate your label the way you want. Here, I added an opaque green layer on top of the paper to make it quite interesting.
Now, add a circle or square at one end.
Fill it with whatever color you want. I am sticking to these two colors.
To add a border on where the marching ants are (those moving lines that appear when you make a selection), go to Edit > Stroke Selection.
To enhance this part further, I added a flower element.
You may or may not add shadows to your elements. If you wish to, go to Filters > Light and Shadows > Drop Shadow.
Using the Text Tool, add the name of your child. You may also add his or her classroom number, class section, or school name.
You may also add shadows to your text.
You can get creative and experiment with shapes, colors, effects, and more to create a variety of labels and tags for school stuff.
After I printed that out, I cut all the labels the best I can. Round edges don't usually agree with my pair of scissors.  =D
These can be used for pens.
Tip: double sided tape makes it easier to attach labels on small and rounded items like pencils.
You can also make blank varieties for you write on.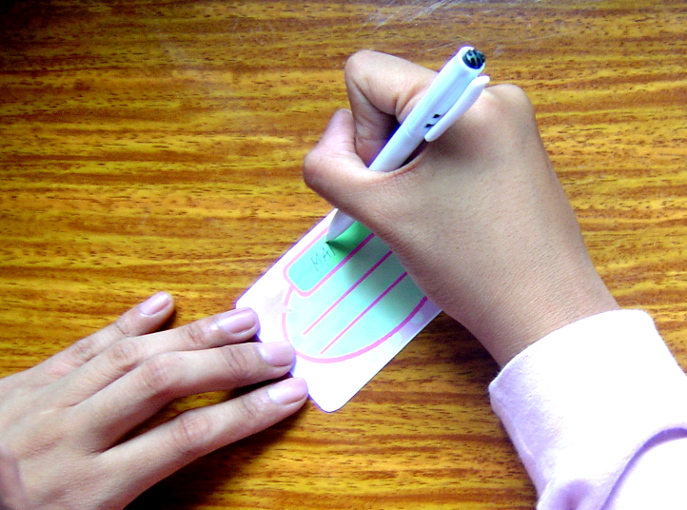 Here are some school stuff that have already been labeled.