A grad card is short for a graduation card. You can make your own personalized gift to a family member or friend who is graduating from secondary school or university. Here's a simple card you can make with GIMP 2 and digital scrapbooking materials.
Grad Card
Open an 8.5 x 11 inch image.
Go to View > Show Grid, and then Image > Configure Grid. Set it to the settings shown below. This will create a division of four guide on your image.
You can increase each image by clicking on it so you can easily see all settings used.
Prepare all the digital papers and elements you plan to use. Here, I have opted for some items in the To The Moon and Back kit found at Digidesignresort.com. Make sure to open each item in their own transparent layer.
Make sure to scale all of them down to prevent unwanted pixelation and to make them easier to handle.
First, I created the basic design of my card by cutting a piece of digital paper and sticking onto one of my cards.
Then I cut out the other items that I want to decorate my card with. Make sure that each and every item you add is opened with it's own layer so it would be easy to edit them individually.
Here, I am colorizing a blue ribbon into a dark gray color by going to Color > Colorize.
This ribbon will go around the card this way.
To create the graduate's cap, create these shapes and fill it with black. You may use the Ellipse, Rectangle, and Free Select Tools.
When you have decided on how you want this all to look together, separate all the items as shown in the photo below. This will make it easier to print, cut, and assemble.
Here, I am cutting all the items for my grad card.
Create a plain card where you will stick all your cut items on.
Starting with the largest item on my table, I stick them one by one. I use double sided tape because it is less messy.
I added a white strip of board to my ribbon to allow it to go around the card to keep it closed.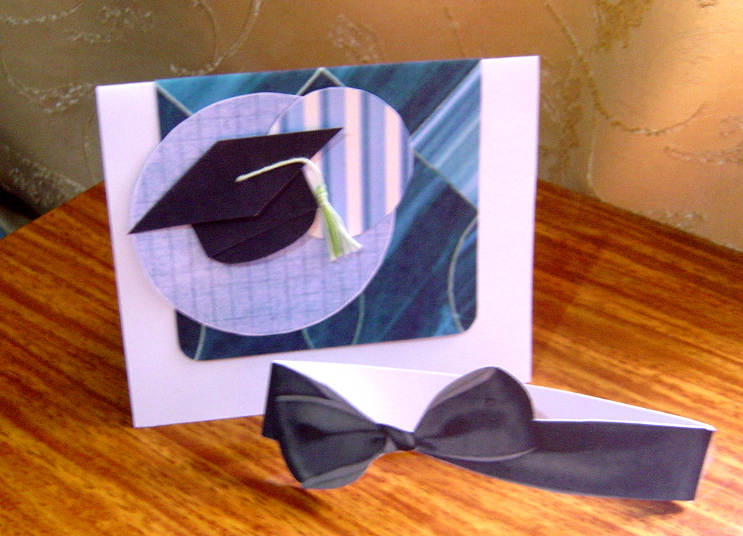 Here now is my assembled grad card. Don't forget to write your message inside.