Recipe cards are great for those who love to collect or create recipes. You can customize your own set using GIMP 2. Here are the basics of making them.
DIY Recipe Cards
Create an 8.5 x 11 inch image. This could fit two cards.
You can increase each image by clicking on it so you can easily see all settings used.
Go to View > Show Grid.
Then Image > Configure Grid and set the spacing as shown below. This will divide the image in two exact parts.
In another GIMP tab, open all the digital scrapbooking elements you wish to use.
It is important to adjust digital papers to a smaller size, especially since these are usually made with large dimensions.
Create a rectangle on your plain white image and paste the background you choose to use.
Go to Select > Invert > and press the Delete key on your keyboard.
Now, using the Rectangle Select Tool with rounded corners, create a space for ingredients. Make sure to do this on a new transparent layer so you could fill it with white and then lower the opacity. Do the same on the other side for the cooking instructions.
Here is another digital paper from the same paperpack kit. I love how it looked and decided to cut out some parts to add to my project.
Here, I added a white ellipse for where to put the name of the recipe.
Using the Text tool, I added labels for the two areas in the card.
Copy the completed layout and paste it onto the other half of your white background. Your recipe cards are ready for printing.
Cut out the recipe cards
These are now ready for writing your favorite recipes.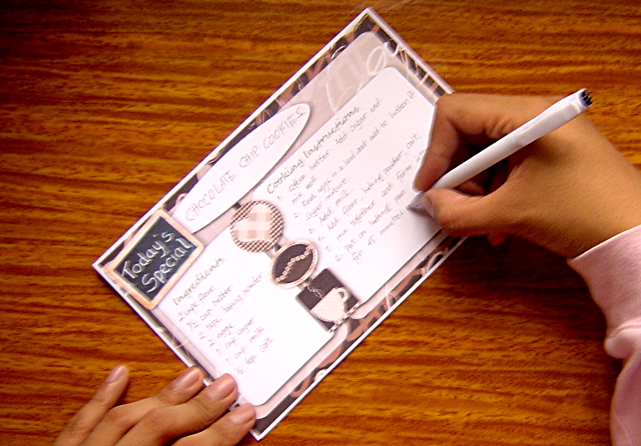 Sorry for the poor resolution, but here is a photo of an accomplished recipe card. These are now ready for compiling. These can be kept in the kitchen for everyone to refer to. Also, these are great pass-me-down gifts to a daughter or granddaughter.