When the world around you turns upside down – you might lose a beloved one, you stumble into a bad experience or you get seriously ill – you all of a sudden know what really matters. The little things.
What Matters the Most to You?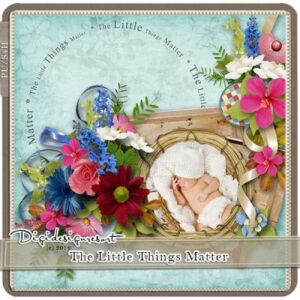 What really matters is your mum making you a cup of coffee, your husband smiling at you, your cat coming around to give you a kiss, your child giving you a hug. That is, in the end, what really matters.
But there will be always the sad things in life. Things that simply happen and when they do you want to have some memories around you which remind you what really matters. Love.
And that is what this digital scrapbooking kit stands for. The little things. Scrap them and treasure them. These can be so many different things which you'll just recognize when you don't have them anymore. Preserve the best before they are gone. It's just easier to remember these happy times when you have a photo, a scrap, some journaling.
So what can you scrap for this occasion?
Do you have any ideas? Anything that is really special to you? Name it here in the comments, we would LOVE to hear about your little things that mater.
For your inspiration, here are some digital scrapbooking layouts for your inspiration: