Scrapbooking is an old tradition in many families. Many women have done it for all their kids. In some families scrapbooks are given from one generation to the other – to preserve the family's memories. Scrapbooking also helps to remember important events in your life. It doesn't matter if you preserve a wedding, the birth of your first baby or grandma's 80s birthday. It is great to remember all these moments.
And years later, when you go through your scrapbooks, you remember well the event – because the decorated photos help you to do so.
Since we all got rid of the mess with traditional scrapbooking, after all it is really expensive and means a lot of cutting, crafting and tons of time needed to clean up later, we moved to digital scrapbooking.
But digital scrapbooking is "just in the computer" – or?
Of course not. Digital scrapbooking is something you can take in your hands just as traditional scrapbooking. It is just much less expensive. And that is where hybrid scrapbooking comes into place.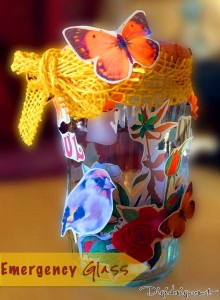 With hybrid scrapbooking you can establish the ties between traditional and digital scrapbooking. You simply print out the digital scrapbooking items, if you wish right on your printer at home, and create something beautiful – from an album to a pillow for your sofa.
There are several options though for Hybrid Scrapbooking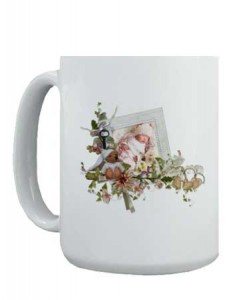 First thing, you can create a photo book right on your computer, e.g. in Photoshop Elements, and then have the company print it. There are other companies such as Shutterfly who do exactly that – print as many copies of your photo books as you want. Created digitally means in this case that you can easily give each family member a copy.
Hybrid Scrapbooking also means that you can print out the files you want on your home printer and create something really beautiful from it, such as we did here with the emergency glass.
You can even use special paper for cloth and create your own T-Shirts or a cup for your kitchen if you want. There are basically endless options. Hybrid Scrapbooking just means to get the digital scrapbooking out of the computer.
Wanna know more you can do with digital scrapbooking turned into hybrid scrapbooking?