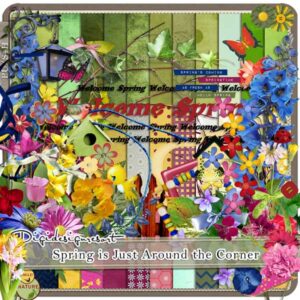 Spring is just around the corner and it definitely my favorite time of the year! I remember well that as a little child I totally enjoyed those days outside we spend in the
garden planting flowers and veggies. Beside that, the first sun rays are so valuable, it feels as if they make you awake ones again after a long winter's sleep.
How can we better celebrate spring than with beautiful photos and scrapbooks? Take your camera out right now and capture the little blooming flowers, the kids playing outside or yourself doing the gardening to prepare for summer. You'll love that ones the winter comes back. You'll enjoy looking at those images and scraps with all the beautiful colors.
And yes, it will be perfect to scrapbook these images with our new digital scrapbooking kit "Spring is just around the Corner". It is just a colorful and fun to play with kit that you just want to get your fingers dirty to make gorgeous layouts, don't you? I bet you want to!
Grab Spring is just around the Corner here
What pictures can you scrap in spring?
Of course everything you do outside! Planting flowers, playing ball, running over the grass
The little things that change after the long winter: blossoms of flowers and trees are just an example
Take pictures of the rough contrasts, maybe there is some snow on the ground left and a flower popping out? Perfect!
Spring is the time when everything is awakening: try to capture a big of a baby bird in its basket, a bird flying around or sitting on a fence
You can also go to a zoo: it will be perfect to take pictures of the baby animals who are usually born in spring
There are so many more occasions you can take pictures in spring but these are some ideas to get you started.
What else can you do with Spring digital scrapbooking kits?
You cannot just do digital scrapbooks from your kits. These are a start but you can also create desktop backgrounds with motivational quotes and your scrap in the background. You can create some cluster looking scraps without background and print them on a special foil to make your own T-Shirts or shopping bags.
With digital scrapbooking kits, the possibilities are endless because you can simply create and print it and use for whatever you need – from mousepads to stickers, from mugs to place cards. Be creative. As I said, digital scraps are just a start. But even if you just put all your digital scrapbooking layouts you create over the year into a photobook and let a company print it, you'll have your own personal yearbook you can give as a Christmas present.
Here are some digital scrapbooking layouts for your inspiration doing Spring Digital Scrapbooking
 Get your copy of Spring is just around the corner NOW
And a Freebie for your Spring Digital Scrapbooking!
Please share this post with your friends on Facebook, Pinterest & Co. Thank you SO much!