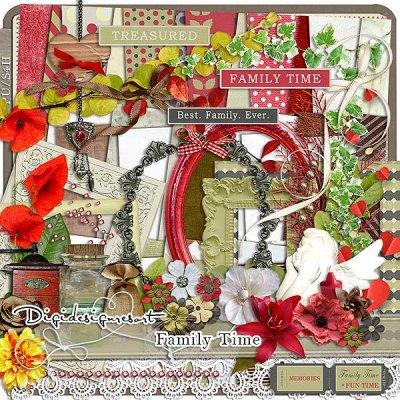 Having a family is one of life's greatest pleasures. Having your loved ones surround you is definitely a marvelous feeling. Families make memories and if your family is like most families you will have numerous pictures that commemorate important events in your lives; such as weddings, the birth of a baby, the baby's first steps, first day of school and graduations. You might even have boxes and boxes of photos which you have stored somewhere around the house.
We have entered the digital age and if you want to protect your family's pictures, it is a good idea to scan your pictures and put them in your hard disk. Aside from storing your pictures, you might as well play around with them and embellish them. Why not create a digital scrapbook which the whole family can enjoy and look back to?
The digital scrapbooking collaboration kit Family Time II made by Digidesignresort is perfect for organizing your photos and making them look even more beautiful. It comes with 91 digital scrapbooking elements and 36 scrapbooking papers. It can be used for pictures taken during any season; be it spring, summer, fall or winter. The graphics can also be used for making mouse pads, t-shirts, bookmarks, place cards, bags and photo books.
With the Family Time II Kit, you have everything you need to preserve your memories in a beautiful scrapbook which everyone will appreciate and enjoy.
Dos and Don'ts for Taking Family Pictures
Holidays are the busiest times of the year to take photos of the whole family so you have to make sure that you do your best. Here are some tips which will improve your family pictures and make you a better photographer.
Squish groups together
Most likely when you take a picture of a group of people, be it family or not, they are almost always not close enough to each other. When members of a family are close, the picture has more warmth and it visually tells people that the family is close. So have people stand at slight angles with their shoulders overlapping.  Keep in mind the ages of the people who you will be taking pictures of. If grandma will be in the portrait, make sure that you have a chair for her. She does not have knees as strong as the rest of the family.
Check the screen for blinking
Always check the photos right after you shoot them because one or two people in the group might be blinking while the others have their perfect poses on. You would not want any of the family members to look like they are drowsy or on medication.  Something you will learn with experience and years of shooting photos is how to quickly scan across everyone's eyes.
Get everyone to smile
Even if they are your family members, they can still get nervous when having their pictures taken.  You want to ease them into the process by getting them to smile and a good way to do that would be to talk to them and tell jokes.
And a Freebie for you