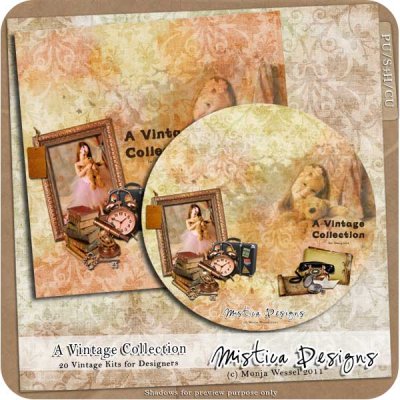 There is just something about old things which make them so pleasant. It can be the smell of years gone by, the memories that were put into these things and the people who once owned them. Some people just love vintage stuff so much that they invest a good amount of their money there. Something vintage which does not require so much money to collect are photos.
Yes, even if your photos are not truly vintage there are so many ways to make them seem so and one of them is by embellishing them with decorations which look vintage. Creating a vintage scrapbook is easier done with the help of the Digital Scrapbooking DVD Vintage Collection by Mistica Designs. It has all the fabulous things you need to be truly vintage.
The kit comes with labels, elements, American papers, travel papers world maps, books, fantasy frames, sheets and labels. Now sold at a discounted price, it is everything you need to create a scrapbook which will look delightfully old and vintage. 
How to Make Your Photos Look Vintage
Vintage style photography has enjoyed a surge in popularity among professionals, as well as hobbyists. If you would also like to improve your skills in vintage photography, we have here some useful tips for you.
Level
Vintage photographs are mostly concerned with saturation and color. Old photos are not as vivid as new ones and this is what you want to follow. There are many levels in post production which you can tweak in order to give your pictures a vintage feel.
Contrast must be toned down so that your pictures will have a flatter feel. Adjustments can be done with the use of various software such as Photoshop.
Enhance photos by adjusting colors and color variations. There is a host of options available in Lightroom, as well as Photoshop so spend some time studying them and applying them on your photos so that you can find the perfect combination.
Lightroom Presets
In lightroom, there are many photographers who are more than happy to share their presets for free or for a very small price for people to use as a springboard for their vintage style photography.
Textures
Another thing which you can do post production to make your pictures look vintage is to use texture layers. Look at old photographs. Check the edges, age spots, dust and water spots. There are various tutorials online which can help you duplicate the textures of old photographs.
Content
It is a given that aside from the photo effects, it is also the subject of the photo which makes it look vintage. Pay close attention to the images which you want to process. Make sure that the subject matter is conducive to the style you are seeking to replicate. Use old cars, have your subjects dress in old clothes and use rustic locations, as well as antique furniture.
Make your photos look vintage by applying the tips enumerated and explained above, as well as making sure that your use the right scrapbook decoration, the Digital Scrapbooking DVD Vintage Collection DVD.
Here are some layouts for your inspiration
Don't forget – all elements and papers inside can be used commercially as well. This means, that you can create your own digital scrapbooking kits for sale with them.
And a Vintage Digital Scrapbooking Freebie of course