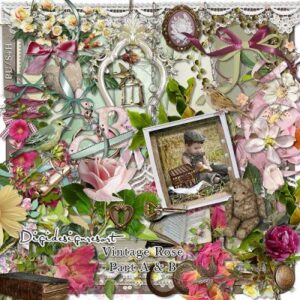 The rose ranks high on everyone's list of favorite flowers. It is a symbol of beauty and strength. If you would like to embellish your fine photographs with roses, you need not look any further. The Digital Scrapbooking Kit Vintage Rose Part A + B by Digidesignresort is here.
This beautiful kit is created for those who love the rose and its soft feminine touch. It works well with family pictures and it is just as perfect for wedding photos and photos of other celebrations. The graphics can be used not only for scrapbooking but also for card making, photo books, place cards, mouse pads, bookmarks and even t-shirts and bags.
The Vintage Rose kit will certainly lend more beauty to your photos. Friends and family will surely admire your digital scrapbook and the compliments you receive will surely inspire you to create more wonderful scrapbooks.
For Vintage Scrapbooking you can use old photos of your ancestors or from recent weddings. It is also a good idea if you try to color them black and white to make them really stand out.
How to Take Great Photographs of Women
Taking photographs of humans requires practice and a lot of time. If you are shooting portraits, understanding of the person is also a must.  It is necessary that you understand your subject to get the best out of them.  This applies even more to women. Women tend to be very critical of their looks. So, how do you get women to let their guards down and to project beauty and strength like the rose?
Spend time with your subject
It is much better to do some snapshots rather than you ask the people you want to take photos of to position for them. Have an event, e.g. play a game together and then, in unobserved moments, you take your photos. This applies even more to children. Sometimes they don't want to be photographed so just observing them and shooting when you feel the moment is there will give you the best portraits ever.
Technique and psychology
Show the photos you shoot to the people they are from. They are much more critical than you are and it a photo is just good when the person on it likes himself.
Sort out clothes
Clothes which look good and fit well can easily boost a person's confidence so talk through them and find the most flattering outfits. Adhere to the basic clothing rules to help make your subject look the best they can on photos.
 Positioning
Positioning is very important in photos and you should take some time to practice this. Move your subject around to see where they look best and most flattering. A rule of thumb you must not forget is to always shoot from above. Only a very few look good from below and they are mostly models. So if you want to take the challenge of positioning people rather than taking snapshots as mentioned above make sure they really want to be photographed and like to experiment with you.
Avoid straight joints
You must have heard this saying in photography, "If it bends, then bend it".  A straight body looks stiff and it very unflattering to most people. Whatever the position of your subject, you must always try bending the arms and elbows slightly. The head should lean forward and the knees must also be bent.
And here a freebie for you so you get a first taste of this gorgeous collection!