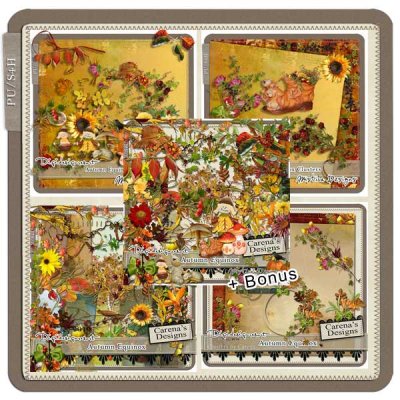 The most colorful season in the year, autumn, is upon us. There are many things to look forward to in autumn. There is Thanksgiving and of course, Halloween. Fall may signal the coming of winter but the colorful falling leaves are bright, lovely and vibrant. They have a lot of life in them.
Because of the beauty of autumn, it is only natural that photographers want to take pictures during this season. If you also plan on taking your camera through a picture-taking journey, you should also think about how you will be showcasing these pictures to your friends and family. One of the best ways to showcase your pictures this autumn is to make your very own autumn scrapbook. You must get the Autumn Equinox Bundle made by Carena and Mistica.
This kit has beautiful designs which can further enhance the beauty of your photos. It comes with 70 digital scrapbooking elements; 20 papers; 2 quickpages; 2 packages; and a blogtemplate bonus especially for you. Scrapbooking in autumn has never been more fun.
Tips for Awesome Autumn Pictures
Autumn is a period of transition which allows you to take spectacular pictures.  Here are some tips which will give your photos a professional quality.
Just add water
Water in many forms make for better pictures when you are shooting landscapes. Still water is ideal for capturing reflections. Do not forget to use a polarizer to increase color saturation on days which are sunny. However, you should make sure that the polarizer does not affect the reflections on the water. Reflections on water will always come out darker because of the laws of physics. If you see eye-catching patterns of colors, use your zoom lens.
Get down and dirty
You want the best shots? Do not be afraid to get down and dirty. Lie on your back in the middle of the woodland to get a better view of autumn canopy. However, you must always make sure that you protect your gear. In pursuit of excellent pictures, you must be prepared to take risks.
Look at the sky
There are days when the sky looks very interesting so you should let it take priority in your images. Use an ultra-wide lens and emphasize cloud formations. Use a polarizing filter to enhance the sky during sunny weather. Remember to always keep the sun on one side of the camera. If you want more detail in your pictures, you should use a neutral density (ND) grad filter so that there is a balance between the land and the sky.
Do not miss out on things
Autumn may last for several months but the best days may not last that long, so you should always have your gear ready. Most photographers consider the last week of October and the first week of November as the best times to take photos and the most productive, especially for people who live in the northern regions.
Mist and fog
Fog and mist can add further dimension to the landscape.  You will need a good tripod for this so make sure you have yours ready.
And here a Freebie for you