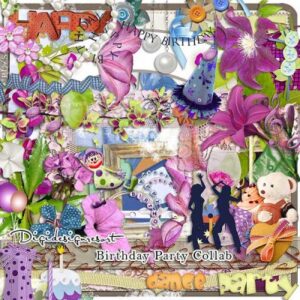 Nothing can warm your heart more than seeing little children delighted and overjoyed during parties, regardless if it is a birthday party, a graduation party or just a simple get-together.  Seeing children with smiles on their faces somehow makes you feel very good too. There is nothing more rewarding than taking pictures of tiny tot while they play, run around happily and giggle every now and then.
If you have been fortunate enough to have compiled pictures of little children and would like to show them off to friends and family, you need to make your very own scrapbook of children's photos. A scrapbook with only pictures and no embellishments is a very boring one. You need to make your scrapbook come alive with colors, patterns and designs.
You need the Digital scrapbooking Kit Birthday Party to help you create the best scrapbook of children's pictures. The kit comes with 93 digital scrapbooking elements and 41 scrapbooking papers. You have all the supplies you need for an exceptional compilation of pictures.
Taking Pictures of Children
Children are some of the best photo subjects. You can see genuine emotions on their faces and their spontaneity is just infectious. If you want to capture the unforgettable moment on children's faces, we have here some tips for you.
Get down on their level
Children are obviously smaller than adults so if you truly want to capture them, you need to get down on their level. Do not be afraid to drop down on one knee or even sit on the ground when taking their photos.  This will give your subjects the opportunity to take center stage and it also allows your viewer access to the child's perspective of the world.
Fun is the keyword
It can be very easy for adults to get frustrated when taking pictures of little children so try to keep it fun not only for yourself but for everyone involved.  Sometimes children may be very eager to have their pictures taken but there are times when they may not be in the mood. Just remember one thing, bribery works sometimes!
Get candid
Candid sometimes work best. Directed shots can easily get boring.  It is ok to ask for one or two posed shots but candid shots are just more precious. Oftentimes everyone's photo is one which is not controlled or posed.
Go out
Not a lot of things happen when you just stay home and wait. It is best to go out and about and take pictures of the little ones while they are exploring and enjoying their surroundings. A day at the park or the beach can lead to countless beautiful pictures.
Be quick on the trigger
The most spontaneous moments happen without warning and if you are not quick on the trigger you will miss out on immortalizing those memories. Always be ready to take some really amazing shots even when you do not expect them to happen.
Find cuteness
If you want to take cute pictures, put little children in big stuff. Put little kids in big shoes and take pictures. However, do not allow them to walk around with ill fitting shoes as this is a recipe for disaster.
Here are some beautiful digital scrapbooking layouts created by our BeachBabes
Some of the Quickpages are in this package:
And here a beautiful freebie for you:
Just click on the picture to start the download