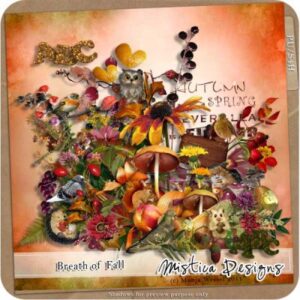 Fall has always been my favorite season and I am quite certain that it ranks high on other people's list of most loved seasons. Fall is when the leaves turn into fiery red and orange and fall from the trees. With each falling leaf comes new life. Autumn is indeed the most colorful seasons of the year and it is a great time to take photographs.
If you plan on clicking away on your camera and making memories in autumn, it would serve you well if you compile these photos and create a fall scrapbook. To decorate your fall scrapbook, you should get the digital scrapbooking Breath of Fall collection made by Mistica Designs. The kit comes with 125 digital scrapbooking elements, 10 scrapbooking papers, 11 scrapbooking cluster, 2 scrapbooking Alpha and 4 scrapbooking Word Art.
The graphics can be used not only for scrapbooking but also other creative pursuits such as making designing notebooks, making place cards, bookmars, bags, mouse pads and shirts! It will absolutely delight anyone who has an artistic inclination.
With the use of the Breath of Fall collection kit, you will be able to come up with a scrapbook which is one of a kind, a scrapbook which will become everyone's favorite to revisit.
How to Capture the Colors of Fall
Take a walk with your camera this fall and capture its true beauty with these tips.
Get close
Leaves always seem to be at their most beautiful during fall get close to them to capture their true beauty.  Take a few pictures of a leaf or two. This is all it takes for them to show their true beauty.
Capture play at its best
Ask the kids to play in a heap of leaves. If you have always wanted to have a photo of the little ones playing in the leaves one good pose is to have stretch their arms outward.  Ask them to throw the leaves in the air and always have your camera ready to capture the moments.  Ask them to smile and laugh and just be themselves.
Get a picture of your town
If you live in a town or place where there are great Fall colors, be sure to take pictures.  The onslaught of autumn leaves make great subjects and they will delight people to no end. If your town has great trails or roads, do take a picture of them.
Get wide
Fall is indeed one of the most beautiful seasons of the year. There are so many gorgeous shades and you should show them off on your pictures.  There is so much beauty in fall that you should experiment with nice, wide and open angles.
Don't forget your props
Do not forget to bring your props when you go on a fun photoshoot with friends and family. Get some toys for the little ones and do not forget that picnic blanket if you want to capture people while they are sitting down, eating, talking and just having a fun time while being surrounded by all the beautiful leaves of autumn.
 Here are some beautiful Fall layouts
And here a little Freebie for you!
A new Tab will open and you can do a right click to save the file to your Computer