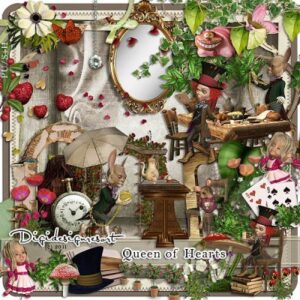 If you are a hobbyist in photography and have found yourself with boxes upon boxes of old photographs, it might be time to save them in digital format. What if something happened to your photos? You certainly would not want to lose them. Better yet, why not just make your very own digital scrapbook instead of just saving your photos of digital format?
Are you thinking of making your very own scrapbook but do not know what layout to use or which theme to choose?  The Digital Scrapbooking Kit Collection Queen of Hearts will help you. It is a scrapbooking kit designed for all occasions, be it spring, summer, winter or fall. It can be used for all sorts of life's celebrations too; from weddings, anniversaries or birthdays.
The Queen of Hearts Kit which is perfect for Fantasy Digital Scrapbooking comes with 106 digital scrapbooking elements; 40 scrapbooking papers; 2 scrapbooking Word Art; and 1 scrapbooking layout template. If you are a fan of Alice in Wonderland and would like to make a scrapbook with that theme, the more reason you have of purchasing this kit. In this kit you will find the queen of hearts, the rabbit, and the tea party and of course, Alice!
If you ever enjoyed Alice in Wonderland this digital scrapbooking kit is just for you! It contains all the elements and papers to make your digital scrapbooking just magic.
Capturing Genuine Emotion in Photos
Since we are talking about the fantasy digital scrapbooking, we have here some tips for you which will help you in capturing genuine emotions when taking photographs. If you want your subjects to display real emotions, it takes a little effort.
Get them to talk
Make some small talk with your subject. This is very important when you are shooting friends, as well as strangers.  Talking will help you get a feel for your subject's personality and this will put them more at ease with you and will help them let your guard down. When taking pictures of a stranger, just start small and let your subject dictate the flow of your conversation. You certainly would not want to run the risk of bringing up a topic which your subject is not comfortable with.
Take plenty of warm up shots
There are some people who need some time to warm up in front of the camera. So, do not be afraid to take a few minutes to get some great shots. Taking an assortment of warm up shots will also help you get to know your subjects more. Taking time to find beauty in your subject will give you more flattering shots.
Experiment with various emotions
Do not be afraid to experiment with various emotions on a photoshoot. This will not only help break the ice, it will also loosen up your subject.
Capture in-between moments
Always be ready with your camera from the time you start the session until you end it. Always anticipate unplanned moments because it is when the most genuine emotion comes. Some people's favorite pictures are those shot when they least expected. Natural poses are always the best. So, always anticipate the next move of your subjects.
Here are some beautiful layouts created using the Digital Scrapbooking Kit Queen of Hearts
Alice in Wonderland Scrapbooking at its best!
And here is a Digital Scrapbooking Freebie for you!