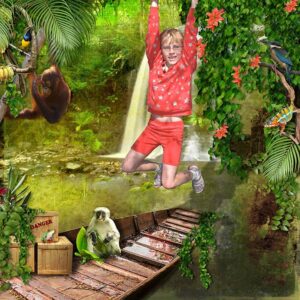 Mother Nature is full of wonders, mysteries and beauty. People delight in it and I know quite a handful who would not mind spending time under the trees while reading a book or contemplating things. If you do not have enough time to commune with nature, you can always bring it close to you. How do you do so? Make sure you incorporate the beauty of Mother Nature in everything you do, including decorating your scrapbooks to make your pictures really stand out.
Trees, colorful flowers and pictures of birds will certainly make your scrapbooks look twice as beautiful. If you have recently gone hiking, camping or cycling throughout the countryside and have taken excellent pictures which you would like to compile in a scrapbook, the perfect embellishment would be the Digital Scrapbooking Bundle Rainforest kit made by Mistica Designs.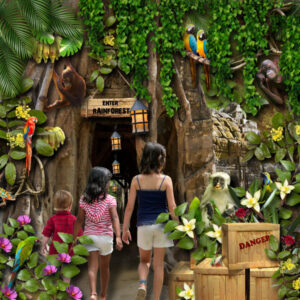 The Digital Scrapbooking Bundle Rainforest kit comes with 50 digital scrapbooking elements, 4 scrapbooking Word art and 15 scrapbooking papers which can make your pictures truly come alive.
Taking Pictures of Landscapes and Mother Nature
Some of the best photographic subjects are those of landscapes and Mother Nature.  Nature photography can be a bit of a challenge but with the right tips you will be able to get the right angles, lighting and other elements so that the next time you travel to places with picturesque scenery, you will be delighted with all the photographs you take. If you have a friend traveling with you, you better show them these tips so you can take turns taking each other's photos with amazing nature backgrounds.
Some people may not like overcast days but they make for dramatic photographs. So, learn to appreciate overcast days.  Light is diffused during overcast days and this will increase the color saturation in your images.
Twilight is one of the best times of the day to take photographs of landscapes and Mother Nature.  If you would like to be effective in communicating your personal impressions of the scene, you can use different kinds of texture.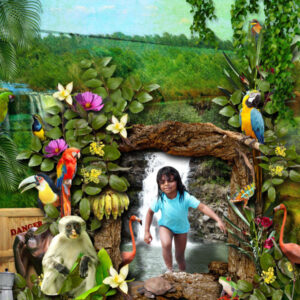 Take time to get up close to Mother Nature. You need not go to faraway places to take picture of nature. You can do it in your very own backyard.  You just need to spend ample time to get close-ups. Observe your surroundings in a macro level and do not forget to set up your camera in macro mode. If you have a macro lens, go ahead and use it.  Sometimes, the best picture is just a matter of taking time to move closer to your subject.
Lighting has a very important role in taking excellent pictures, be it portraits or pictures of sceneries.  With the right lighting you will be able to capture the finest details and textures.  However, if lighting is too harsh, some details will be blocked. Cloudy days are great for taking pictures because they provide you with a much softer light. If you want to get the most flattering glow and soft light, take pictures during early morning.
An album or scrapbook of nature photos will be much more excellent if you are willing to explore and get up close to nature.
Here some more items from the Rainforest Series:
And here is a beautiful freebie for you, for all your vacation digital scrapbooking scrapbooks!