Winter is considered to be one of the most wonderful times of the year. It is the sign that the holidays are coming which means merriment, gifts and spending time with the entire family. If you think that winter is bleak and cold, you  better think again. It gives you an  opportunity to take excellent pictures which conveys the fun times of the cold season.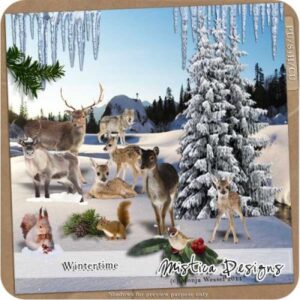 Winter is the time for various sports such as skiing and of course the favorite activity of little children, making snowmen. The amount of pictures taken during winter is enough to warrant a winter scrapbook. Your winter scrapbooks would not be complete without the right embellishments so you need the Digital Scrapbook Kit Wintertime Set.
Made by Mistica Designs, the Digital Scrapbooking Kit Wintertime Set comes with 41 digital scrapbooking elements which include huge fir trees, frozen leaves, fir branch, fawns and leaf with fir cones, among others.
It is the perfect kit for your winter photos.
Tips for Shooting Photos in the Snow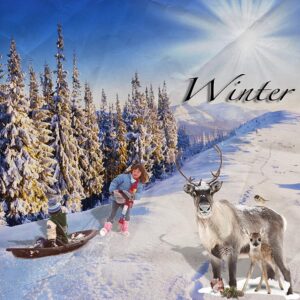 A lot of people might think that winter is not the best time to break out the camera and take photos, but it is. You just have to know the tips and tricks which will make your winter photos exceptionally brilliant. Here are some insider knowledge which will make you want to take photos every single day of winter.
Mind your exposure
Snow is white, we are pointing out the obvious in case you did not know.  This will give your pictures a predominant highly reflective background. It is a must to adjust your exposure accordingly. You must expose the darker subjects in your frame.
Pay attention to your light source
Aside from your paying attention to your f-stop compensation, you also need to check your light source. Where your subject is positioned will dictate your light source and the adjustments you need to make to it.
Take pictures of the little things
Snowflakes are intricate and unique from one another. If you are a fan of macro photography, you will not have any problems finding good subjects to use for your pictures.  You might also want to take images of dew on the leaves during morning.
Keep a spare battery
Your camera's battery will not last long in the cold compared to normal conditions so always bring a spare with you. You would not want to end your day early when there are so many nice things to take pictures of.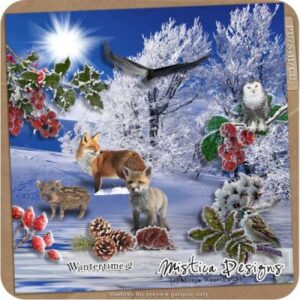 Plan for the cold
This might seem obvious but some people still forget this. It is cold during winter so you need to dress in layers to keep yourself warm. You also need to keep your fingers warm with gloves so that you can shoot pictures in the snow.
Check your white balance
Snow can easily confuse digital cameras. What can you do to fix this? Manually set your camera's white balance with a sheet of paper before you start taking pictures. Another option is to set the white balance to the tungsten setting.
And here a freebie for you 🙂
These three digital scrapbooking kits belong to a collection which also goes along with "Christmas Eve", so the freebie also coordinates with that collection: