Christmas is one of the most anticipated holidays of the year. Everyone looks forward to the first snow and the opportunity to give thanks and celebrate the closing of the year with family and friends. Everyone loves receiving gifts and giving gifts not only to the people they know but even to complete strangers.
Christmas is also the time to make memories and what better way to immortalize these memories than by taking pictures and putting them on your very own Christmas scrapbook. The joy and the spirit of the holidays will be conveyed effectively through the pictures and the smiles of the people.
If you are thinking of making your very own Christmas scrapbook and have no idea what to decorate it with, the Digital Scrapbooking Kit Collection Christmas Eve is here to your rescue. It comes with 22 digital scrapbooking elements and a variety of decorations and embellishments which will delight you such as Christmas balls, Christmas socks, Santa, reindeers and bows. You have all you will ever need to come up with an exceptional holiday scrapbook which you can show off to everyone.
Christmas Photography Tips
There are plenty of opportunities to take great pictures during the holiday season
Capture the preparation stage
Meals and decorations just do not happen by themselves. Before the actual party, there are plenty of things to prepare and this is a very good opportunity to go ahead and take pictures.  Bring your camera along and take images of the food preparation stage; decorations; wrapping gifts; kids getting dressed in their Christmas outfits; and of course, when the table is set.
Take outdoor photographs
Winter brings a little something which makes it truly a unique and festive season. Do not be afraid to get out in the cold and take photos of homes covered in snow. In neighborhoods, there are families who just seem to go overboard with their decorations. There are homes decked out in all the glory of the season and they make very good subjects for your photo.
Christmas ornaments and lights
It is impossible to find holiday photographs which do not have ornaments and Christmas lights and frankly they have become so cliché. You will want to capture them in inventive ways because they can add character to your photographs.
Focus on the eyes
Pictures just become a little more lively and true when you focus on the eyes of your subjects. When taking picture of people your images should have as little headroom and dead space so that the image will be more about the faces than anything else. Flash can be used with most indoor photos but it is best that you use a detachable flash so that the light bounces off the ceiling.  You do certainly do not want the colors to be washed out by the flash.
Express relationships thru photos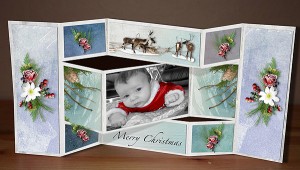 Highlight the importance of relationships and express them thru photos. Christmas gives you a very good opportunity to define the emotional moments between friends and family.  Try to get your subjects to smile or laugh so you can capture the bond between them.
Start your Christmas preparations early this year. With a digital scrapbooking kit you can already create your Christmas cards and decorations such as place cards and garlands and so much more. The key though is to start ahead of time so you won't have time problems. For your Christmas Scrapbooks you can also use different packs at once. For the card and layout on the left we used "Winter is coming" by Carena's Designs – and see how well both kits work together.
Make your Christmas preparations now!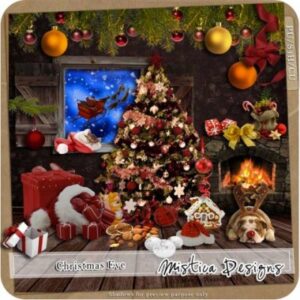 Get "Christmas Eve" here (It comes with a CU license so you can even resell everything created from it) and grab "Winter is Coming" here
Here a Freebie for you!