Summer has finally come to an end and the weather is starting to cool down. But along with that comfortable climate setting in, you find yourself getting more and more preoccupied with lots of activities now that the kids have gone back to school and it's business as usual with all your other commitments. Don't lose heart, fall isn't supposed to be a season to dread for. Despite the drawbacks, there should be something in the so-called fall busy season that we should look forward to like basking in the sun or enjoying a quiet autumn afternoon in the park or spending your free time on fall digital scrapbooking or taking pictures of the surroundings while driving across the town.
Such activities will help you loosen up a bit while you are in the thick of things. Surprisingly, the beginning of autumn is one time of the year when everyone is filled with excitement from back to school to halloween to the onset of the winter holidays. This is also the time when people really take advantage of the outdoors and appreciate the beauty of nature.
In this wonderful An Autumn Afternoon Digital Scrapbooking Kit, you'll find yourself getting more immersed in the magnificence of fall. Complete with 38 colourful scrapbooking papers, 72 charming scrapbooking elements and 1 12 x 12 digital scrapbooking alpha, you cannot help but get excited to start your own fall digital scrapbook.
Incidentally, the An Autumn Afternoon is not just for making fall or autumn scrapbooks, it can be as versatile as you can imagine such that it goes well with summer, spring, family, holidays, nature or outdoor motif.  Better yet, you can still use the contents of the kit for any other art projects or crafts. Yes, you can use them when making bookmarks, stickers, greeting cards, photo books, invitations, posters and even for t-shirt designs. As mentioned, you have plenty of nice looking papers and elements to use ranging from different blooms, flowers, foliage, birds, other animals and even pumpkins.
To give you some ideas on how An Autumn Afternoon can help you achieve an awesome result, take a look at the following layouts from britnkaysmemaw2, Twin_Tina, kims_scrappin and Twin_Kati: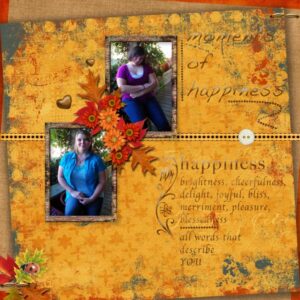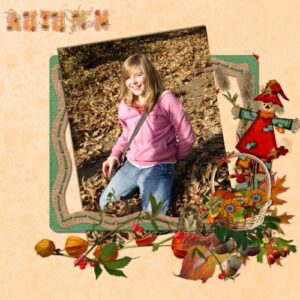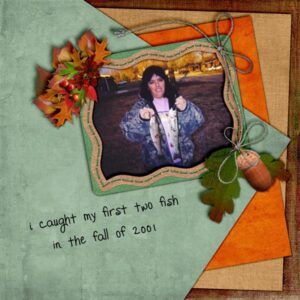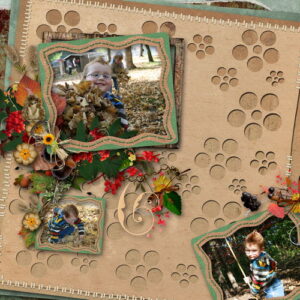 With the annual fall colour looms to display its beauty, this is also the perfect time to catch the peak while trees and other greeneries change their colours from green to golden yellow. Get your cameras ready and take these bits of photography advice to help you achieve fantastic photos for your digital scrapbooks.
– Overcast days are better than the brightly lit sun shiny days for getting rich and vivid colours of nature. Shooting on subdued lighting creates more impact on your photographs as saturations become higher when there is less shadow and lens flare. Take advantage of the cooler days of fall, so get out and shoot as much as your time permits.
– Adjust your camera's colour temperature setting to warmer shades. This can be done by veering away from the White Balance mode. Just be careful that you do not overdo it. You have to keep acquainted to your camera on this one though as each camera has its own way of adjusting the White Balance setting. Play around with the preset settings and take note of each shot so you'll know which setting to use when you do outdoor shots.
– If ever you intend to use your flash, use the right balance of light by adjusting your setting from one and two f/stops. Some photographers even use white tissue papers or just plain white paper to minimise flash.
– And since fall involves lots of falling leaves, why not try to experiment with different techniques on panning directions and shutter speeds. You'll be amazed at some results like catching a vivid photo of the leaves being blown away by the wind.
WIth all that photography tips, you'll definitely have the time of your life as you practice on your fall digital scrapbooking!