Anything old gives you a nostalgic feel for times gone by and things which have passed. It makes you long for some people and makes you remember memories. After all, there are some things which are worth remembering from time to time.
Some events in life are just too valuable and too precious to be forgotten. It is only proper that these memories be preserved and remembered in the most special ways. If you treasure your travel memories with your significant other, family or friends, you should get Digidesignresort's Scrapbooking kit Vintage Traveling Kit. It comes with 63 scrapbooking elements and 36 scrapbooking papers which can also be used for making calendars, photo books, mouse pads, bookmarks and even bags.
This scrapbooking kit will definitely make your travel pictures stand out from the rest. So, let your imagination run wild and your creativity roam free when making your very own vintage travel scrapbook.
Taking Better Travel Photos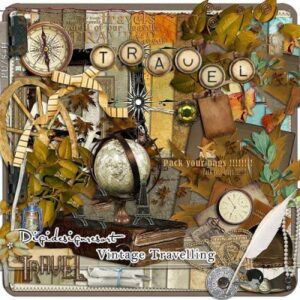 Taking travel photographs is one of the most rewarding hobbies today. It will allow you to show off your photography skills and allow you to relive all the wonderful travel memories you have had. So, how do you take the best travel photographs?
Pack little
Pack as little as you possibly can. Refrain from carrying a bag which obviously has a camera in it, especially in places where security is an issue. Always put the camera strap over your right shoulder and hide it under your jacket.
Shoot things which are of interest to you
Each of us has our own preferences. Architecture might interest you but I might be more interested in taking picture of the people on the streets. So, remember to shoot things which are of interest to you. Do not be afraid to approach locals and ask to take their photographs because most of them will agree and will be flattered.
Show people and what they are doing
Traveling is a great way to meet local people and get acquainted with their cultures. Show how people live their lives through your photographs. Show the man selling corn; the little kids playing with each other and women talking to one another.  Your pictures will help tell their story.
Do not be afraid to get close
Sometimes your photos do not turn out the way you want them to be.  You might just need to use the zoom function of your camera or perhaps get a little closer to your subjects. You must avoid getting too close or else your picture will become distorted.
And some additional products that go perfectly with the the Vintage Traveling Kit
Here are some beautiful digital scrapbooking layouts for your inspiration: