Ah romance! Everybody wants it and everyone just can't seem to get enough of it. Romance should be in our everyday lives but it is more evident during the day of hearts. Flowers, chocolates, letters, gifts and sweet gestures are just some of the things which make moments romantic.
If you are thinking of preserving the most romantic moments and mementos in your life, you should think about scrapbooking. Scrapbooking is fun and it also allows you to let your inner artist shine through.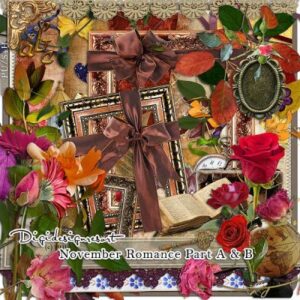 When decorating your romantic pictures and keepsakes, you should get the November Romance Part A+B kit form Digidesignresort. It comes with 194 scrapbooking elements; 65 scrapbooking papers; 4 scrapbooking Word Art and 1 scrapbooking Alpha.
Although it is named November Romance, it can be used for all seasons and for a variety of occasions. You can use it when making your spring, summer or Fourth of July scrapbook! The graphics can be used for making calendars, bookmarks, t-shirts and even bags.
Tips for Taking Romantic Photos
Romance can be difficult to capture in pictures but this does not mean that it is impossible to do so. One of the most important elements of a romantic photo is the mood. Almost any photograph can become a romantic masterpiece if the right elements are used. Some of the most important elements for a photographer are subject matter, filters and lighting.
Set the tone with light
Shooting in low light will require you to use a tripod. It is also necessary to change the settings of the camera. Check your white balance, shutter speed, exposure settings and ISO settings.
Be creative
There are various ways to use soft lighting when taking romantic photos. One good technique which you can use is by dimming or diffusing indoor light. You might want to also take pictures with the city lights on the background, a warm candlelight or a glittering sunrise.
Backlighting
You will be able to create romantic and dramatic silhouettes by placing the light source behind your subject. This will give the photo a soft and romantic feel. One great source of backlight is the sun so take sunrise and sunset photos. However, you should avoid pointing the lens directly at the sun.
Softening and blurring effects
Blurring and softening are sometimes necessary to create better looking romantic photographs. Most cameras today come with settings which will allow you to soften pr blur part of your images. Different lens filters can also add warmth to scenes.