Autumn is a time of wonder and colors. It is when leaves magically transform to red and oranges and fall from trees, paving the way for cold winters. Autumn has always delighted children and adults so it is not surprising that some people call it their favorite season.
Autumn is a fun time to make memories and take timeless pictures.
Fantastic Photo Tips for Autumn
Any time of the year is a great opportunity to take exceptional photos but during autumn the landscape around us transforms and becomes even more beautiful. Ordinary green turns to vibrant oranges and reds. In order to increase your chances of creating a wonderful array of autumn photos, we have some tips for you.
Use a tripod
The tripod is your friend and if you should take exceptional photos, you should master it. Tripods really help when you are shooting with dusk encroaching. Minimize noise by turning off your flash and setting your ISO to 100. Different shutter speeds can do wonders so do not be afraid to experiment.
Use a macro lens
Do you have a macro lens? Good! If you want to take expert looking pictures of leaves, the macro lens is very handy. Do not worry if you do not have a macro lens because most SLRs today come with macro mode settings. Again the tripod is very handy when taking macro shots because it will allow you to focus without worrying about blurring.
Take leafy portraits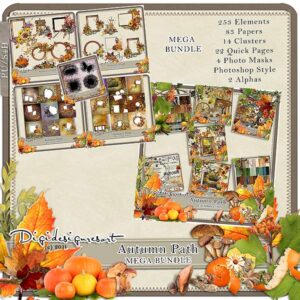 Make use of what is abundant during autumn, leaves! Leaf heaps can be a fun addition to any portrait, be it portraits of children or adults.
Capture a time-lapse
Why not take a picture of the same tree from the same spot every day of the month? If possible, take the shot around the same time daily for a whole month and you will have yourself a time-lapse picture which perfectly captures the transformation of the tree.
Autumn Path Mega Kit Collection
If you want to make an exceptional scrapbook with an autumn theme, your best choice is the Autumn Path Mega collaboration kit by Digidesignresort. The kit comes with 253 design elements which can truly make your scrapbook stand out from others with the same theme.
So the Autumn Path megakit is more than enough for you? You can also use it for making notebooks, mouse pads, bookmarks and calendars. Do not be fooled by the name, the Autumn Path mega kit is perfect for just about any occasion. It is also a god choice for scrapbooks with nature and outdoors themes.
Here are some of the most beautiful scrapbooks created with this kit. But remember, you can do much more with digital scrapbooking items – just print them and use the images for whatever project you have in mind!