Halloween is a time of make-believe. We can be anyone we want to be, be it that childhood superhero, a cartoon character or a popular comic book character. It gives us the opportunity to dress up and be anyone we want to be. If Halloween is fun time for adults, it is even more so for little children who want to pretend to be someone else.
It is time to do your costume, grab your basket and go trick or treating in the neighborhood. Think about all the candy you can bring home after a night of going up and down the street with siblings or with friends. Halloween is indeed one of the most popular holidays in the West and it is celebrated with delight and glee by both adults and children.
Halloween is a great time to make memories and take nice pictures. Never send out the kids to go trick or treating without taking pictures first and of course you must also take pictures once the children get home from trick or treating.
Preserve the Halloween pictures you took by scrapbooking them. Your children will certainly appreciate looking back at the Halloween of any years ago which they have spent with other children in the neighborhood, cousins and friends. Digidesginresort's Hocus Pocus scrapbooking kit collection can help you design the best Halloween scrapbook ever! It comes with 115 scrapbooking elements, scrapbooking paper and scrapbooking word art.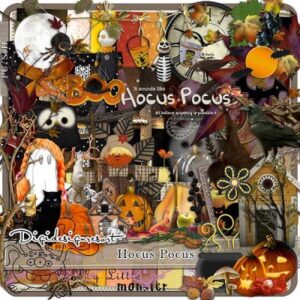 Tips for Taking Halloween Pictures
There are many things of interests to take pictures of during Halloween. You can take pictures of the traditional Jack-O-Lantern and people in costumes. Halloween is the time of merriment, color, emotion and plenty of interesting subjects.
The key to capturing excellent pictures during this time of the year is good composition. There are some basics which you must keep in mind and we have discussed them for you, below.
Points of interest
Before snapping away you should ask yourself what the focal point of the image is. Good images have something in them which holds the attention of the viewer.
Rule of thirds
A good technique which professionals use to enhance the composition of their shots is to place the points of interest in great positions. The rule of thirds is one of the most important lessons which every budding photographer needs to learn. Imagine breaking down the image into thirds both vertically and horizontally, thus resulting in 9 parts. The points of interest must be placed in the intersections or along the lines so that your photo will become balanced.