Time to put away the swimming shorts and the sun protection, summer is over and it is now time to go back to the hallowed grounds of the academe. Although not everyone is looking forward to school, there are certainly things which you can do to make the idea of going back to school more appealing and exciting especially for the little ones.
School days are some of the most memorable days in our and in your children's lives. Once you graduate and venture to the real world you will definitely miss the days you spent studying books, learning a lot of new things and making lifelong friends.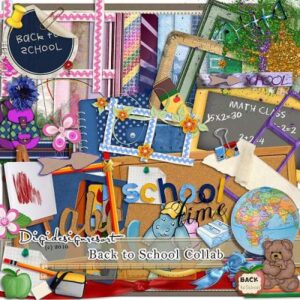 It is truly a sin not to take school photos which you will remember your school days with. If you do have taken a substantial amount of school photos and would like to preserve them, you should make a school scrapbook. This is also a very good idea to get little children excited about the thought of going to school. Get the Back to School digital scrapbooking kit by Digidesignresort and let your creative side coMade with 64 digital scrapbooking elements and 31 12 x 12 digital scrapbooking papers, the kit can also be used for making bookmarks, notebooks, calendars and mouse pads. It is everything you need to decorate your stylish back to school scrapbook with.
Get the right light
Snapping pictures of you preschooler outdoors when the sun is shining is not a good idea. If you would to take pictures of your little one in his school uniform when outdoors in bright lights, think about finding w tree with shade or a porch. This can make a lot of difference on your photos.
Let the background tell your story
Before you start taking photos of students, you should think about the story which you would like your photo to convey. Take photos which give more context to the memory which you are trying to create or capture. En if you cannot find an excellent background, you should at least make sure that the background is free of mess and clutter. You want the children to be the star of the photos and not the mess.
Think outside the box
You would not want to take boring school photos. Find new angles to shot from and open your mind to possibilities. Think about using playground equipment to frame your subjects. There are many things which you can do to take excellent back to school photos.