Summer is over. It is time to say goodbye to the beach, the sun and the sand. It is time to head back to school, back to the books left behind, the paper and the notes. School is a fun place. It is where you learn not only about certain subjects but also about life. Education is important and although it might not be as enjoyable as a day out in the beach or the park, it is up to parents and guardians to make sure that children also look at school in a fun way. You already got some ideas in our Back to School Part 1 but here are some more!
What makes school fun? Aside from learning valuable things, you also get to spend time with your classmates and teacher. There are songs, activities and memories which will last you a lifetime. It is a crime not to take school photos and it is also a crime not to preserve these photos too.
Preserving your school photos in a beautiful way is possible with the help of scrapbooking. Get the Back to School scrapbooking kit by Mistica Designs. It comes with 19 digital scrapbooking elements which can be used by teachers, boys, girls and pretty much anyone who would like to make lasting school memories.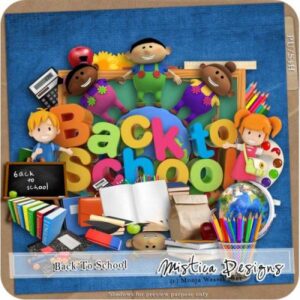 Back to School Photo Tips
Taking photos of children going back to school is an age old tradition which is practiced all over the world. Children can be reluctant to go back to school and what better way to encourage them than to take pictures of them looking pretty and handsome in their school uniforms.
Plan ahead
It is important to plan ahead when taking school photos. Do not take photos of the children without warning. Children are already nervous enough going back to school after a long period of doing nothing and enjoying vacation. It is a good idea to plan photo day at least 2 days ahead before actual classes start.
Pick a good background
Photos will look a lot better if you pick a nice background. Do not limit yourself to neutral cloths or doors. Go outside and shoot in the garden. The photographs will be a lot livelier when you have a background of beautiful colors.
Pose
You would not want the children looking stiff in your photos. You want your subjects to look happy, relaxed and happy to have their photos taken.
Flash
Flash can be a real issue if you take photos indoors. Most on-camera flashes can make skin tones look unnatural and can also create shadows. Consider using a diffuser and if you do not want to use flash you can use a reflector to add more light.