Have you ever wondered why fall season makes some people a feel gloomy? What if we only have fall as the season all year round? You might say that this would have been a dull and lonely world if that's the case.  But did you know that fall is considered the harvest time in most parts of the world? This is the season that farmers await to reap the produce of their hard work. So, fall is supposed to be a time to rejoice and be hopeful of good things to come! And for us digital scrapbookers, this is the best time to start our fall photography project. For those who have no idea about it, why not embark on a photography tutorial? There are lots of available lessons online if you want to save time and money or why not read on and learn from the short snippets we added as tips below. Just keep up with your passion and dedication, soon enough you'll  be spending more productive time in the season of fall.
A good idea is also to ban the memories of the fall season into some digital scrapbooking layouts. There are fantastic opportunities for pictures in fall, if nothing else definitely because of all the colors! And there is nothing better to use than our beautiful Digidesignresort Digital Scrapbooking Kit 1000 Colors for your beautiful Fall photos.
Fall Photography Tips
With the weather starting to cool down, you can spend more time outdoors to do some fall photography. The photos you take will make your digital scrapbooks come alive! Here are some fall photography tutorial bits that you can use:
Since fall as oftentimes suggest more overcast or cloudy skies, your concern for capturing the beautiful fall colors of nature must be lurking in your head. But do you know that seasoned photographers prefer the cloudy skies over too much sunlight when shooting outdoors? That is because cameras get more of the rich colors in subdued lighting as compared to direct sunlight since too much light compromises the light and shadows of objects.
If you want to get more day lighting effects, there are reflectors available which helps in reflecting light and targeting only specific portions or parts of the subject like the face.
Fall season is the time to appreciate the beauty of nature, if you must take pictures of sceneries, try and practice on capturing every detail of an object up close like that lonely leaf that fell on the ground. Or you can get most of the colours in a larger scale by going up a building or hill to take picture of a vast landscape like a view from above.
What is fall without getting a photo of the perennial falling leaves? But then again, try to inject as much of your personal style like catching kids playing on the rain of leaves or grandpa cleaning up the porch. Whatever it is, add people to liven up the mood.
You can now start thinking of how you can tell your Fall photography though digital scrapbooks now that you have an idea how to use the colours to express the mood and spirit of fall.
Grab a copy of Digital Scrapbooking Megakit 1000 Colors here.
And if you share this page to your friends in social media like Facebook or twitter, you'll be getting a freebie from us!
1000 Colors Digital Scrapbooking – Fall Photography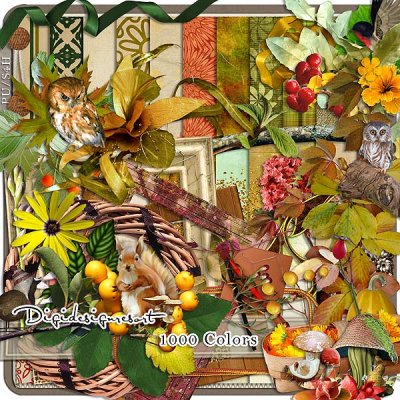 The Digital Scrapbooking Megakit 1000 Colors offers a delightful array of papers, elements and even Word Arts that will surely complement every digital scrapbook project you have just in time for fall season. Aside from befitting the fall theme, you still can use 1000 Colors for summer, spring, family, friends or any other theme project you will do as the kit includes lots of decorative objects that every digital scrapbooker would love such as flowers, butterflies, garlands, some birds and more.
This handiwork is a product of our regular collaborators namely Alenka Designs, Aquarius Designs, Benthaicreations, Desytka Designs, Feli Designs, JuliEnriquez Designs,  MariScrap,  Papierstudio Silke, Sarayane, Scrap Angie, Simplette Scrap and Design, StarSongStudio, and SweetMadeInc.
When you are designing other crafts or artistic projects, the contents of the kit come in handy such as in making Calendars, Greeting c\Cards, Photo Books, T-Shirt designs, Stickers, you name it!
This digital scrapbooking kit contains various digital supplies:
64  Digital Scrapbooking Elements
33  12×12 Digital Scrapbooking Papers
  9  12×12 Digital Scrapbooking Word Art
But there are more products that complete this gorgeous collection, our Beachbabes have created some gorgeous Clusters and Quick Pages:
Just to show you how amazing 1000 colors is, here are some layouts made by our users Emst and Blondy:
And here a freebie for you, created by Aquarius Designs