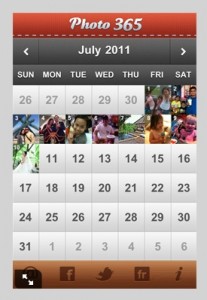 Every year in December anyone seems to prepare for the 365 projects – it starts with writing one line per day about your day and ends with creating a digital scrapbooking layout every day. Creating one layout per day sounds like a huge commitment though and I could swear that I wouldn't get over week two – not because I don't like the project or give up – I simply have no time left to use for something like that. Therefore I never started a 365 project and usually wondered how anyone else was doing it.
The answer is easy – we all look back on our past year, we reflect, we think about what we can and should change, we want to keep other things in mind – and we can definitely do this better when we have our daily diary by hand. But in "real life" there is not always time to do that – no time to sit down, write a diary entry, scrap a page, reflect the day. So how do we get out of this dilemma?
I started with a "Photo a day" – something I could easily do because I did it with my iPhone. There is a little App which reminds me each day to take one photo which stands for the day (read more here) and hey, it works – as soon as my iPhone gives me a signal I just take a second (not even a minute) to take a photo of the day. It is amazing how many photos I collected this way. No, I have not scrapped them all – most probably I never will or I might use them in the one or other speed scrap to create a weekly layout.
I think the problem we all have with 365 projects are the fact that they start on January, 1st and if we won't keep it doing until December, 31st we feel that we have failed another 365 project. I don't think this is the case. My 365 project started somewhere in September and I have no clue when it will end. Thing is that now, since I don't have to do more than taking a photo each day, I don't feel like it is a huge commitment – it's just that – a photo 🙂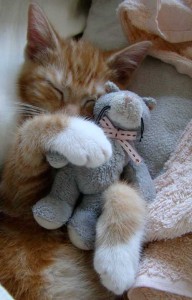 Still, I can reflect many days with this memory hook. I took a picture of my cat, Flo, and brushed it up a little with Instagram. I really like it and I swear, I wouldn't have taken this picture when I didn't have the App.
If you like to grab the App go to the App Store – you find one for the iPhone and one for the iPad, it is not free but super cheap though:
iPhone:
iPad: