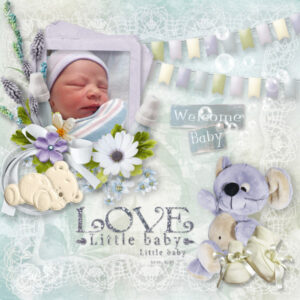 The world is a beautiful place isn't it? Especially when it is filled with the gurgling and giggles of kids. No don't worry, I am not gonna wax all philosophical and poetic. This work is about babies and the truth is the tiny precious beings are probably the easiest and most inspiring topic any artist could take on.
This baby digital scrapbooking kit "Welcome to the World" is created by Digidesignresort  and has over 78 digital scrapbooking elements, 45 digital scrapbooking papers of size 12 x 12 each and also it comes complete with Glitter styles.
Now if you are gonna use this kit, you are more likely to want to focus on scrapbooking baby pictures and here are a few tips to make your work easier:
Tips for your Baby Digital Scrapbooking Layouts:
You could take pictures of the baby in various positions like lying on its back, lying on its stomach, sitting, etc.
You could take pictures of the baby in various activities. For instance have you ever seen a picture of chubby, happy baby getting a bath and gurgling happily at the bubbles? Well how could you not love that one? You could take pictures of the baby crying and screaming out its lungs ? it will come in handy when it becomes a teenager and you need to embarrass it into doing something you want like say, homework. You could even take pictures of the tyke eating coz they are babies and like it or not, they are cute at everything they do.
You should definitely include the 'Milestones'. This means the baby's first smile, baby's first sitting up, baby's first crawling, baby's first steps, baby's first day of kindergarten, you get my point. You should definitely take pictures of all these milestones and include them in you scrapbook,
Now the most important of all these tips? Always have a camera handy! I mean they are babies men, they do stuff without telling you first because they do not even know they are going to do it and trust me you will hate it when you don't have a record of your baby's first step because you were at the zoo and the camera was at home.
This kit can be used to create and preserve such wonderful memories that you can add to your personal collection or even use as a gift. Of course if you take random baby pictures, you may even sell the scrapbook. But word of advice: do NOT sell them if they are your own babies' pictures because it may not go over well when they are older and you have to explain to them what you did with their baby pictures.
You can find the baby digital scrapbooking kit here
Wanna see more gorgeous layouts with this digital scrapbooking kit? Go here