Every month the Digidesignresort Designers come together and create a beautiful collaboration kit. As the owner I usually have the honor to create a color palette what I think fits to the year or simply to a theme. Then I post it in the forum, the designers grab it and make something beautiful. It is quiet a bit challenging to put something really nice together because there are many designers working on one kit. You have to check if it is "scrapable" as Carena says or if it contains all necessary elements and papers. What do you do with a kit where frames are missing? Or a vintage kit without lace? Right, that won't look good so our designers put a lot of effort into each kit. They have to look at the contributions already made and then decide what they are going to create for the kit. Some, such as Papierstudio Silke, often jump in and do more than they have to, e.g. create an alpha or do some Word Art for you.
Now and Forever – Vintage Digital Scrapbooking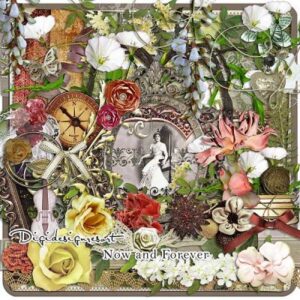 The digital scrapbooking kit "Now and Forever" contains gorgeous elements: Flowers in all kind of colors for a fantastic layout as well as leaves, frames and some ribbons, bows and lace. If you are not inspired yet just look at the layouts and you can see what you can do with this great kit!
It won't just work for vintage scrapbooking though. It will also work perfectly for family pictures, birthday cards, invitation cards and many other things you want to put a vintage touch on.
The layouts you see here are created by stmac, Emst and Blondy and I bet you'll love them. You can see – it doesn't matter if you use a purple background or something light – your pictures will always turn out beautifully.
And then we have our Creative Team, the Beachbabes. They finally test if our kit is "scrapable". And yes, they do a wonderful job and sometimes they even provide the one or or other goodie for you all. So today I though I give you quick view behind the scenes but also provide you with some great inspiration and a beautiful Freebie by our Beachbabe Elaine.
This Freebie is available by direct download (you don't have to go to the store). The only thing you actually need to do is to share it with your friends. It would be nice if many people can download the freebie.
If you like the freebie, please take a second and share it on Twitter or Facebook.
It costs a lot of time to provide you free goodies for your scrapbooking. So if you enjoy this freebie it would be AWESOME if you could share it on your favorite social network. Thank you SO much!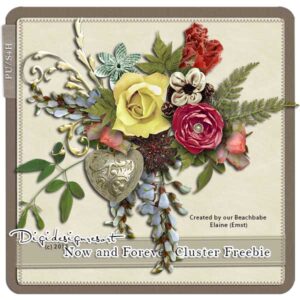 Click on the picture and the download starts in a second!
Thanks so much for supporting Digidesignresort, it's greatly appreciated.