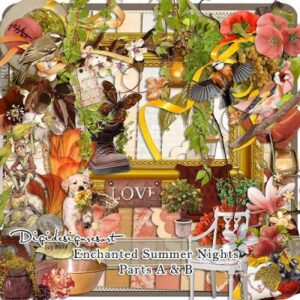 There is no better time than now to make memories. Memories, especially the good ones, are meant to be remembered. Thanks to scrapbooking you can do exactly that. It allows you to compile photos together, sort them out by theme and present them in a beautiful way.
The Enchanted Summer Nights Digital Scrapbooking Kit by Digidesignresort is just the right kit for you to make your priceless summer memories last forever.  Aside from digital scrapbooking, the graphics it comes with can also be used for creating photo books, cards, calendars, mouse pads, bookmarks, t-shirts and place cards.
Whatever the season is, the Enchanted Summer Nights Digital Scrapbooking Kit is just perfect. It can be used for spring and summer photos. But can be used for weddings, birthdays or whatever occasion as well. Make a scrapbook for yourself, for the family or for someone special. Create the scrapbook and let the children join in on the fun since it is summer and they have free time. Not only will you be getting valuable help, you might also awaken their creative side.
Photography Tips for a Day in the Beach
Summer is the best time to go to the beach, hit the waves, swim all afternoon, get a tan and just have a fun time with friends and family. Of course, you should never forget to bring your camera along with you when going to the beach. You want to make sure that you have snapshots of this great time! The beach presents every camera owner a wealth of opportunities when it comes to taking excellent photos.
Timing
Timing is very important and for shooting at the beach, two of the best times are during sunrise and sunset.  There will be less people in the beach during sunrise so you can get a good view and angle which you will not often get during other times of the day.
Black and white
One technique which can make your beach photos outstanding is stripping photos of their color and leaving only black and white.  There is always something about a black and white photo on the beach which can change the mood of the picture. If the day is overcast or dull, black and white is the way to go.
Exposure
One of the most difficult things in shooting outdoors during summer is that it can be incredibly bright. You can get the results you want by not relying on the auto mode but by choosing manual mode instead. Landscapes which are brightly lit can be quite tricky, especially if there are areas which are shady and areas which are bright. Focus on the area which you want to be well exposed.