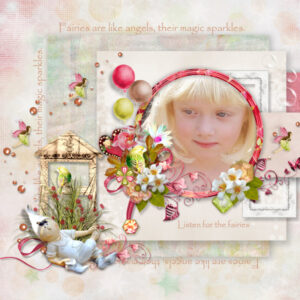 When a new baby is added to a family, we want to preserve every moment of our little ones. We wanna catch their first smile and whatever you can think of. And one of the best ways to do that is definitely with scrapbooking or even better digital scrapbooking because we can create beautiful photo books decorated with elements and papers which underline our pictures. And the digital scrapbooking kit "Little Fairies" is such a perfect kit to preserve these moments. It is created by the Digidesignresort Designer Team – Alenka Designs, Alevtina Designs, Aquarius Designs,Benthaicreations, ButterflyDesign, DigiscrapArtTherapy, J&M Creation, Maguette Designs, MariScrap, PapierStudio Silke, Princess Design, Sarayane, SweetMadelnc – and kept in soft colors so you can use it over and over again.
Here some tips how you can take perfect and unforgettable pictures of your newborn:
While portrait pictures are great you most probably will want to catch all the "first" moments. So just do a ton of documentary shots such as baby's first bath, his first time with mommy, first time with daddy, first time with grandparents, first everything – these are moments you'll never get again. 

99% of what you see from your baby in the first days is a little red head packed into tons of blankets. To get a good looking natural baby picture you need to get low down to their level. Put the baby on a blanket on the floor and yourself with the camera next to it – this way you can take a picture and enjoy to be close to him or her.
Go close – isolate e.g. a hand and make it look big in your picture. But you can also take pictures of baby's eyes, foot, arm, etc.
Wherever you go, don't forget your camera. In these valuable first months where the baby changes so quickly it should be with you, just like the diapers 😉
Soft colored baby pics are great but if you take out the colors of the photos you put all the emphasis on them they deserve. Try it with a close up, you'll love it.
Preserve your memories with a digital scrapbooking kit. There are so many options and it is so easy to do. We have tons of tutorials about digital scrapbooking on how to do it and also a complete class on dvd so you can easily get your layouts done.
You can find the Little Fairies Digital Scrapbooking Kit here