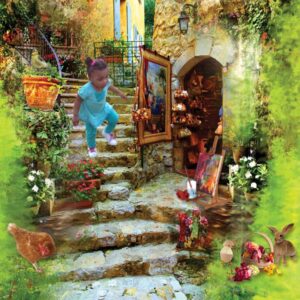 To keep your Easter and spring memories and document some fun moments this year, you could try out this digital scrapbook themed Easter Factory kit. Using this special Easter themed scrapbook is one creative way that you can keep your Easter memories alive. You have to agree that eating Easter candy is a tradition in many households. Every year parents try to come up with ideas on what gifts they can give to their children apart from the usual Easter bunny eggs.
As you ponder on what you will get for your kids this Easter, make sure that you will have a digital camera on standby to capture every funny and adorable moments of your kids and family in general. The Easter factory kit lets you put together amazing and stunning scrapbook images like the ones you see in magazines. Your family will be delighted to see the beautiful pages that contain their images which you can create in very little time.
Digital Scrapbooking Kit Easter Factory
With this Easter factory digital scrapbooking kit, you can be able to change your colors, crop your photos accordingly or even tint the. It allows you to make various editions to your photos in order to make them look great in your layouts. Gone are the days where you would require running to the photo lab to have your images enlarged. Now you can do this at home and come up with cool images using this cute Easter factory kit.
You do not have to worry about gathering supplies for coming up with your Easter Factory kits as everything has already been designed for you. There are several kits that you can work with depending on the images that you want to put up. Overall, this makes your scrapbook creation much faster enabling you to work on several pages in a very short time.
You can then print out your images in a few minutes after completion and watch your kids get fascinated by all the characters and settings that they saw on Easter Factory. Digital scrapbooking is convenient because it does not require a lot of preparations. You can start on it as soon as you sit on your computer with your images at hand.
What's more, you can come up with different interesting items with your Easter Factory kit such as t-shirts, souvenirs and calendars. All these would make wonderful memoirs of your Easter celebration which will certainly be interesting to look on them every now and then.
Grab the Easter Factory for your personal scrapbooks here or design your own digital scrapbooking kit with the commercial use version.