We Are United Family Digital Scrapbooking
This screams 'family'. Yep the title should be a clue huh? Duh! Well this beautiful digital scrapbooking kit collection by Digidesignresort is so amazing it can be used for everything from family to friends to vintage scrapbooking layouts. It has 80 scrapbooking elements, 40 digital scrapbooking papers of size 12 x 12 each, and 1 digital scrapbooking alpha of size 12 x 12 each. It is a graphic layout that speaks from the page and can be used for scrapbooking or calendars or even t-shirts.
The digital scrapbooking design is pretty amazing. You could have a lot of fun working with this one to take some pretty amazing pictures and create a pretty amazing scrapbook.
Now I will share with you some ideas of how I used mine so you could probably glean a thing or two:
The first step is in knowing what you want. You have to have a finished image in your mind before you start trying to create anything.
You have to decide if you want to use the scrapbook for personal or commercial purposes.
Then the work starts. I decided that I wanted to commercialize mine so I compiled several pictures of musical artists doing their thing, you know singing their hearts out. It was amazing! Several different artists in different parts of the world, with different heritages, dressing style, beliefs, all united in music ? that was the theme.
Then I started pasting pictures of the artists on each scrapbooking page. Strategic pictures that showed the differences in personalities, culture, and all that stuff I mentioned earlier but which had the underlying theme: we are united. Let me tell you, this one sold like crazy!
Then I had another one done of sports athletes. I pasted pictures of my boyfriend's favourite team, Manchester United ? he went a little crazy when he saw that one. I got pictures of them together before a match, gathering around an injured colleague, rejoicing at a goal, mourning a loss, the works. I am not a fan of football but even I have to admit the result was pretty amazing! Of course when I handed it over to my Bf as a gift for his birthday, he was moved coz the message was clear: I didn't like football, but he did and so… we are united.
Of course you could also take pictures of you and friends or family or even just paste the good old national flag and the message is clear… we are united
Here are some layouts for your inspiration for the Kit We Are United Family Digital Scrapbooking: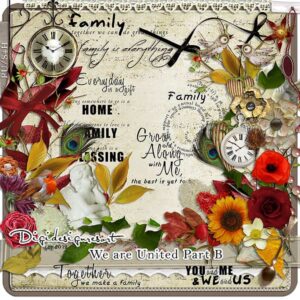 And here is your free digital scrapbooking kit: