Vacation Digital Scrapbooking – Hawaiian Party Luau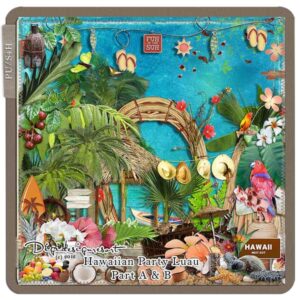 Hawaii is the stuff of dreams for most people, including yours truly. Whenever I pictured my wedding and the honeymoon, I always saw myself doing it in Hawaii as I am sure a great number of people do. Hawaii is the place of romance and beauty and great big 'Luau'.
This kit contains 133 digital scrapbooking elements and 47 digital scrapbooking papers with sizes of 12 x 12. It is also often delivered in digital form as opposed to actual shipping and as a scrapbooking kit, it is wonderfully descriptive of the unique concept of Hawaii. The kit is beautiful and the graphics are bold and bright and imaginative. At a glance, you can see at once an element of Hawaii whether it's big straw hats, or tall cool drinks, or beaches or huts, or big bowls of fruits, or whatever else you need to see.
Now the use you could put this kit to are so numerous they are actually pretty amazing coz it could absolutely cover wedding scrapbooking, birthdays scrapbooking, vacation scrapbooking, exotic holidays layouts and even just good old travel.
Here are some ideas for taking pictures that you will use for the Hawaii scrapbooking design kit:
First off, you don't have to travel to Hawaii to take pictures. You could totally stay wherever and still rock this.
You do not have to be at an actual Luau before you can take credible pictures. Anywhere natural or relaxing should do the trick.
You can build on the Hawaiian theme. Yep I should know. Since I am yet to tie the knot and as such yet to visit Hawaii, I simply took a picture with a bunch of girlfriends by my pool. I made them all wear really long gypsy skirts, bikini tops, and of course the big straw hats. Then I handed everyone a tall glass of Margarita to hold up and then I just used a few flowers to create some wreaths which I draped around each person's neck. The result was amazing! I still believe I went to Hawaii every time I look at those shots! Heck, my sister still won't speak to me because she saw the scrapbook and thought I went to Hawaii without her!
So you get the idea. The graphic layouts are so real and so credible that even you, will think they were taken in Hawaii… yes even when you know better.
Here are some layouts for your inspiration for the digital scrapbooking kit Hawaiian Party Luau:
And here is your free digital scrapbooking kit: