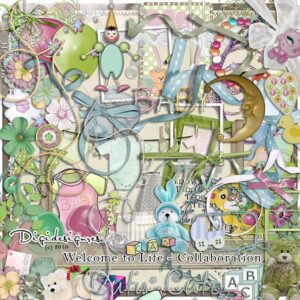 Welcome To Life – Digital Scrapbooking Kit
In marking the special occasion of welcoming a baby to the world, there is certainly a lot you can do. With our welcome to the world scrapbook kit, you can be able to capture and document a great deal of this important moment in most people's lives. To remind you of this day, you can assemble all your cute photos and create a beautiful digital scrapbook that can tell your wonderful story. Where words cannot be enough to describe, let this welcome to the world scrapbook kit do it for you.
There are many designs and themes that you can create with this scrapbook kit. Even before the birth of your baby, you can prepare some photos of the baby shower and all the tiny and cute gifts that you received from your friends. Whether good looking or not, it might be good to assemble important photos that can make a story that would be interesting to look at much later in life. The welcome to the world digital scrapbook has various features that allow you to emphasize on certain images, shapes and depth, allowing you to come up with beautiful and creative images.
When creating images of your little with this megakit, you can choose between a set of scrapbooking papers. You will find many elements that you can use to sparkle up some of the images that you would want to stand out. Remember to have a couple of close up photos as the images as if you do not emphasize on these, it might be very easy to get lost on the surrounding patterns.
You can also use our kit to document the chronology of your baby month by month in a pattern. You can alternate funny paper patterns with your pictures. To break this pattern, throw in a larger but recent image of your child. If you have other children, you can also include their photos in your newborn's baby album.
What makes this kit stand out is that you can use different layouts to come up with assorted items and designs. You can be able to create a simple Album cover which you can use for your scrapbooks and especially one for your newborn.
Order for your welcome to the world scrapbook kit and capture your baby moments from the time they get home to walking, eating and talking. This kit has different types of toddler and baby themed embellishments that can help you come up with a great newborn themed digital scrapbook.
Here are some layouts for your inspiration for the Baby Digital Scrapbooking Kit:
And here is your free Baby Digital Scrapbooking Kit: