Digidesignresort Digital Scrapbooking Artist Studio Designer DVD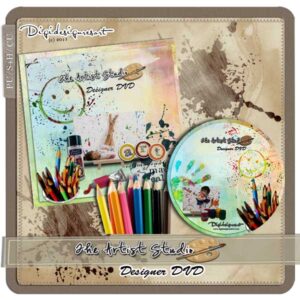 With the Digidesignresort Artist Studio Designer DVD, designing has never been easier. Whether you are an artist or not, this Artist Studio Designer DVD can help you a great deal in creating interesting items in a very short time. This DVD will awaken and sharpen your creativity as you access and use some or all of its elements.
Among the various things that you can learn from this Designer DVD is creating photoshop images like the pros do it and items like greeting cards, digital scrapbooks and custom-made calendars. You will be able to learn enormously and do a lot with this Digidesignresort Artist Studio Designer DVD. 
What makes this Artist Studio Designer DVD a must have?
This DVD comes in different elements which have been carefully designed to make it easy for you to use them. All these elements are of high quality and you can be sure that the papers included have been checked for quality before issuance. Expect to see tons of different scenes, papers, textures and graphical textures.
With this DVD, you can be as creative as you can get because there are many kits that you can use to make your creations. If you want to make a picture with a Christmas theme, you can find this theme and much more like flowers, beaches, leaves, postcards, household, figurines and many more in the DVD. There are about 600 elements that this DVD comes with and if you would like to take your creativity to the next level, you should definitely try this out.
Aside from the creative elements that are already created for you, this DVD also has several videos that can teach you on how to create your own elements. If you are beginner in the creation of digital designs, this can be a sure way to learn a thing or two while you familiarize yourself with the concept of designing on a computer. You will also get tutorials on styling your own elements and creating solid papers that have textures among many other things.
This is not all as you will also find helpful videos that can assist you with Photoshop creation and how to use various tools to make your designs. This DVD may definitely be worth your money if you intend to learn  on different design tricks and get new ideas on how you can come up with interesting and creative layout for your scrapbooking or design projects.
And here is you free digital scrapbooking kit: