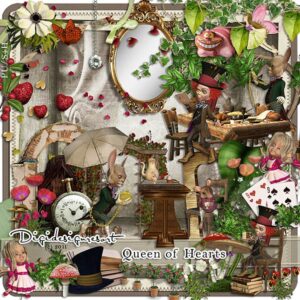 The world of fantasy is one that can take us to exciting places which we have never been to before. Like Alice in the wonderland, you can experience this and much more with our queen of Hearts digital scrapbooking kit which has a collection pages that feature some characters in this story and some beautiful scenery. Animated layouts can enable you to showcase several images on the same page without the need to select any focal point. If this element is something that you go for in your scrapbooking, this digital scrapbooking kit will enable you to do just that.
For a long time, books and animated shows have been a great part of our culture and way of life and it seems that they will continue to. When using animations or themed scrapbooking kits, you need to maintain your color harmony while keeping your focal photo into consideration. Unlike your regular scrapbook, a themed scrapbook might have a lot of objects and colors. For this reason, you might want to tone down on your colors and paper textures.
Even though this kit has some pages which have fewer patterns, you will find a lot of different colors and objects in them. If you like having a lot of colors in your scrapbooking projects, this kit might just be for you. Because of this theme and its colors, you can certainly use this kit for spring and summer photos not forgetting celebration photos with kids images on for any interesting story.
Nevertheless, do not forget to keep your layout simple. You wouldn't want to cover some of your paper's designs because your images are too big. A busy layout tends to make the eyes strain to see everything.
When it comes to the number of photos that you can use with this kit in a layout, keep it minimal. This is the only way one can enjoy seeing the fantastic scenery, rabbits and all other creations of Alice in the wonderland. Should you want to print your scrapbooks images and send them to your friends and family as cards, you can do so. It is also very easy to send them in soft copies because unlike the regular scrapbook images, you do not need to scan this in order to send it.
As the queen of Hearts scrapbooking kit is totally digital, you can have a lot of fun with it creating different images with its beautiful elements and kits.
Here are some layouts for your inspiration:
And here is your Digital Scrapbooking Kit Queen of Hearts: