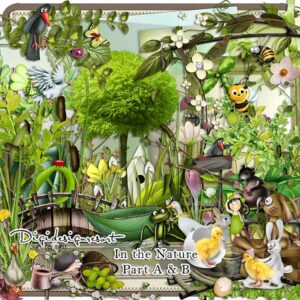 The nature and its surroundings are perfect places for scrapbookers and photographers alike, the beautiful colors and scenery begging to be captured. You can celebrate nature in a photo or a creative layout by trying out this Nature digital scrapbooking kit. This kit has been designed for use with your beautiful summer photos and outdoor images.
Tricks and tips for Nature scrapbooking;
Take great pictures outdoor pictures with your cellphone or digital camera. With photography, you can always create beautiful images without needing any artistic training or ability. When you set your camera to auto, you can get started on your photo sessions. Nevertheless, remember that to get good photos, you need to have good lighting.
Feel free to play around with the colors and sceneries. As this Nature Scrapbooking Kit comes with different elements, there are several designs that you can try out come up with. Bright colors and backgrounds can really look great on beach photos and other natural sceneries.
With this kit, there are several themed embellishments like flowers that you can use. When you add some of these elements, you can be able to emphasize on the layout's subject. You can also use this technique to add interest to a particular title or journaling block.
This Nature kit certainly comes with a lot of themes that you can use to create different layouts and if you use interesting color schemes, you will sure come up with beautiful and fun to look at stories.
The advantage that comes with using digital scrapbooking is that you can always use your creations to come up with various items like calendars, bookmarks and many other creative and customized items. When you purchase this Nature kit, you will also get free scrapbooking software to use as a free trial. You can also use this kit if you already have another type of scrapbooking software.
By adding different layouts in your photos, you can be able to offer additional levels of storytelling. With scrapbooking, you can always try out different things without the fear of running out of supplies or messing up on things.
If you are beginner and would like to try out this kit as well, there are some tutorials that you can go through to get the hang of it.
With the right license, you can use these items to carry out your own web design or work with it on other digital scapbooking kits.
Here are some layouts for your inspriation:
And here is your free digital scrapbooking kit