Do you love scrapbooking? If you do and you have been engaging in scrapbooking for a while now, then you may have need of something new and different to spice up your scrapbooking hobby.
Now, you may have looked at, borrowed, and bought several scrapbooking books about layouts, design, and whatnot – so much so that you feel that you have exhausted all of your scrapbooking reserves. You may find that as time goes by, you are pretty much repeating your layouts and designs. This phase can be termed as "scrapbooker's block".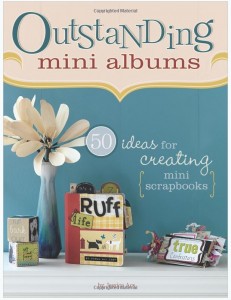 I for one have actually experienced this. After months of non stop scrapbooking, I felt like all of my creative juices have run dry. While I had tons of references for new scrapbooking ideas, I found myself wanting to do something "different" but yet within the scrapbooking scene.
Luckily, I stumbled upon a book – Outstanding Mini Albums: 50 Ideas For Creating Mini Scrapbooks. Now, if you are thinking that this is just one of those run of the mill scrapbook layout books, you are wrong.
If you are like me, then you are accustomed to creating scrapbooks which are generally photo-album sized. This book has shown me a whole new world of scrapbooking – mini scrapbooking to be exact. What does that mean, you ask? Well, it just means that instead of using the usual book-style scrapbook, you can create little mini-scrapbooks from all sorts of things such as mugs, CDs, etc!
The book Outstanding Mini Albums: 50 Ideas For Creating Mini Scrapbooks has really helped me in discovering other creative and quirky little ways that I can utilize in the creation of the scrapbooks that I so love.  What is so great about this book?
According to the claims of this book, it can help you:
Make pre-made albums with fun themes and original embellishments.
Reinvent everyday items like coffee cups and CDs as pages for handmade mini books
Master new techniques such as creating faux epoxy letters and homemade buttons.
This book is really wonderful since not only does it offer brand new ideas for scrapbooking, but it also presents them in a very easy to understand manner. Even scrapbooking beginners will have no trouble at all in following the various instructions available in it. In fact, the layout of the book is geared towards being easily understandable by newbies.
Even if you are not particularly interested in the actual making of mini scrapbooks, the tips and techniques listed here are also applicable to any and all of your scrapbook designs.
So, if you are looking for a really great supplement for your regular scrapbooking, I highly recommend that you check out Outstanding Mini Albums: 50 Ideas For Creating Mini Scrapbooks. You certainly won't regret that you did!