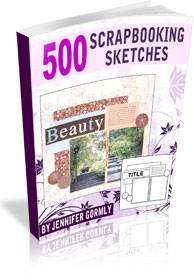 I've been so used to getting my scrapbook layout inspiration from pre-made templates. But when I open and see almost the same template designs over and over, they make me feel dull and lose my creativity. I bet you are doing the same, right? Well, let me tell you a great new discovery – Scrapbook Sketches!
Scrapbook Sketches are like blueprints. They look and work similar to a master plan when you're building a house. Unlike templates, sketches are made up of drawings (hence they are called sketches) that serve as a diagram of page arrangement that you can follow or re-arrange according to you liking. You can plan the contents of every page in your project including the number of photos or items to include and their placement with the help of these sketches. In effect, you'll have more or less an idea of how each page would look. By the same token, you can prepare the materials required for the whole project at an earlier stage of your work.
One particular e-book, titled 500 Scrapbook Sketches is making a buzz among scrapbookers. Written by Jennifer Gormly, the book offers a collection of sketches for different lay-out patterns. Take a look at this list:
127 sketches for one photo
132 sketches for two photos
108 sketches for three photos
56 sketches for four photos
35 sketches for five photos
21 sketches for six photos
21 sketches for six or more photos
What are Scrapbooking Sketches?
After going through some of Jennifer's sketches, I believe the book fits both newbies and seasoned scrapbookers. It really doesn't matter how you classify your own expertise on scrapbooking, by these neatly presented sketches, readers of any category will be able to find something from which to draw a number of inspirations.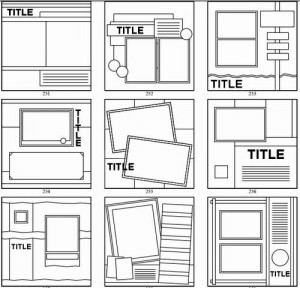 The 500 Scrapbooking Sketches As Your Time Saver
What's more, the sketches comes with easy to follow instructions which is of great help for those who are just starting out with digital scrapbooking. You can also opt to print your chosen sketches so that you can easily refer to them while working.
One appreciable aspect of the book is the added "Secret Instructions" which shows several techniques of one can completely whip-up a simple sketch into an album that looks like it was made by a professional. Just take a closer look at this sample: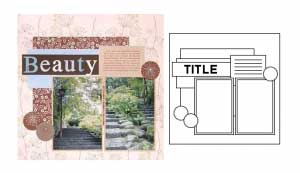 While achieving scrapbooking success is not difficult with the guide of 500 Scrapbooking Sketches, as a buyer, it is a great deal to know that I am assured of 60-days 100% money back guarantee in purchasing the e-book. I have to stress though that this book does not really intend to teach the ins and outs of digital scrapbooking but rather to provide a resource of fresh layout inspirations.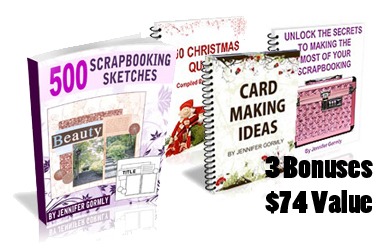 I highly recommend this book for those:
in search of fresh scrapbook concepts
determined to unearth their creative potentials
willing to try new scrapbook techniques
desiring to take their scrapbooking skills to a new level
Now, if you think you are one those in the list above, get ready to have more fun in scrapbooking because you'll not be disappointed with 500 scrapbooking sketches.
Get the 500 Scrapbooking Sketches NOW