Beside styles, gradients, and actions there are other possibilities to expand your graphic program, e.g. with photoshop brushes. In Photoshop you can create custom brushes from any image yourself or you can install a new package with just a double click on the brushes file.
You find your brushes on the left in your toolbar – just click on "brush tool" in the drop down menu (open it when you click on the bottom right corner)
You can increase each image by clicking on it so you can easily see all settings used.
Then you find in the top menu your brush palette with all the loaded brushes: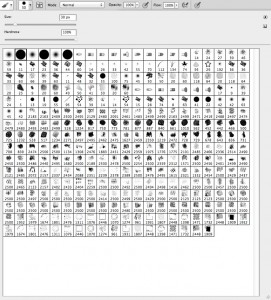 Now you can choose one brush with a click on one of the presets – brushes are used for tons of things in digital scrapbooking, e.g. to create photomasks or you can modify your background/elements, etc.
Here an example of a photomask: