There are several parts in each scrapbook page you need to combine: photos, journaling, embellishments, and titles.
You can put emphasis on just one of them or more – whatever you prefer. For example: if you scrap a wedding photo the couple might be in the center of the page while a photo from the beach might not need that much attention.
1. Photos
Most probably you create your page because of one or more beautiful photos from an event. You need to decide first how many photos you use. Try to keep them consistent because it is much harder to scrap layouts with photos which come from different events. In case this is a worry for you – better use a photo less or put less emphasis on one when you reduce the size of the photo.
Here are some examples for great use of photos in layouts.Jaqueline's Layout puts emphasis on the photo because it is black and white, with a not too obvious background and not too many layouts – the message comes across though, doesn't it? Elaine, on the other hand places her little granddaughter into a scenery. She extracted the little girl and then put her into a scene – a fun way to create layouts!
2. Journaling
You don't need many words to "journal" – even just a sentence or two can help you to remember the scene you are scrapping. You can also add a date, and the typical who, where, what questions. Put enough to help you remembering this special event. Just be sure to leave enough space for your journaling.
Here a layout from stmac where she includes a quote into her page.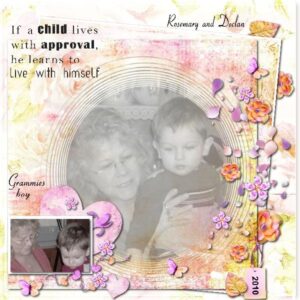 3. Embellishments
When it comes to embellishments there are two things you need to think about: first you need to choose which embellishments fit your page and second you need to choose where to place them.
Here are some ideas:
choose big flat embellishments for the background (e.g. behind photos or to blend photos in)
choose small embellishments such as flowers and butterflies (see on layout above) for repetition.
use embellishments to put emphasis on a special area of the page (e.g. the photo)
create new elements with those in your kit – create beautiful clusters
Here an example of clustering in a layout from scrappingramma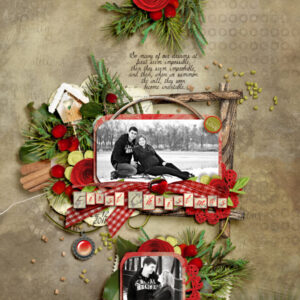 4. Titles
Titles cue the viewer to the subject. They are also important to let the viewer know at a glance what theme your page has. A page does not necessarily need a title but it catches the viewers attention, sets a tone and puts immediately a twist to the story – if you want. Before you start your page decide how important the title is – if you want a title place it on your page early and balance it well to the photos.
Here is an example of great use of the title "Holidays". Widie has put it into the middle of the page in a light color. This way the title is not overwhelming and does not take away the attention from her gorgeous clustering but it is definitely present.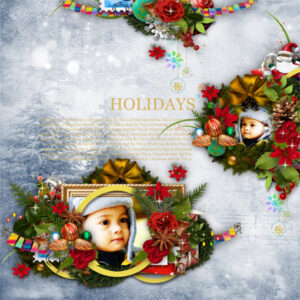 You can find the PDF Document here. Just click on the link and download the Printable to your Computer.