Tools and Techniques for Creative Photography Ideas
I have to confess something I've already talked about in our newsletter – I'm spending a fortune right now on photography books! Not that these books are such expensive – but once I had one I thought I need the other and the next… and I LOVE them!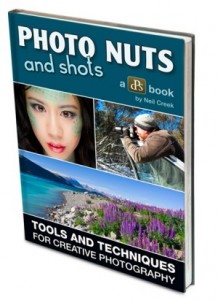 I thought I write a little review about the ebook:
Photo Nuts and Shots: Tools and Techniques for Creative Photography Ideas
I do not lack of ideas – I have lacked of skills so far. What I mean is that I have tons of ideas in my head on how to take this or that photo and I believe that I have taken enough photos in my life already to "see" a good picture. My problem is just that it turns out totally different than I had it on my mind. So I realized that I do not lack of ideas but of skills to make a great shoot out of the idea in my mind. When Janet, my friend from JanetB Designs, recently convinced me to take a Photography Class – to do something for "ourselves" without thinking about anything but fun I was first skeptical – do I have the eye for a good photo? Can I improve my skills? And last but not least – will I be able to understand all the technical terms in English which is – as most of you know – not my mother language.
To make the story short – I got used to it 🙂 After checking out 100s of words (that's how it felt) I finally expanded my vocabulary and figured what it was on my camera. What helped was also that I could watch the videos again and again and therefore I wasn't under pressure to understand the first time.
But I do not want to tell you about the Photography Class but about the fact that I discovered how much I missed taking photos, how much I missed learning more about photography and how much fun it actually is.
And what do you do when you are on search for creative photography ideas?
Well, as anyone else – I google 🙂 I found tons of fantastic photography sites with lots and lots of information. But I finally got caught to some of Darren Rowse's ebooks about digital photography –
Photo Nuts and Shots: Tools and Techniques for Creative Photography Ideas
Saw it, bought them and never regret. I thought I'd have nothing to lose because the author offers a 60 days money back guarantee. I will write detailed reviews about the books here as well so you know if this is something you can get hooked to as well 🙂
First of all I can say that my creativity is bubbling again. It seems that my brain has been waiting for something (or someone) telling me how to get the little pieces together and enlight me on how to take better photos. I can't say that from one day to the other I got the best photographer ever (of course not ;-)) but I definitely had some ahhhh moments – and that now I'm thinking a bit differently when I take a photo. I turn to the manual mode much more often and I started to experiment with my camera and, later, Photoshop. I more enjoy the process of taking photos than before.
Before I took the class and read the ebook Photo Nuts and Shots: Tools and Techniques for Creative Photography Ideas I worried if my photo would turn out correctly. Even after the first weeks I switch more and more often to the manual mode on my camera and I think a big impact on that had the ebook for creative photography ideas.
The book itself has over 100 pages of content and discusses in detail not just the so-often discussed rule of third every photographer knows but also where to position yourself to take a stunning picture, how to break the rules by purpose and how to get the sharpest picture possible (this is definitely something I usually fight with!)
When you read more about the book here you will also see the complete list of contents.
I really like the transparency the author gives about the book – you won't be disappointed because you know upfront if this book is for you or not. And even if not – you'll have a 60 days money back guarantee!
As this is an ebook you can buy this at 2 am at night and you'll have instant access!
Additional to the ebook you get a little reference guide – a handy paper which gives you an overview of the most common problems a photographer faces.
Conclusion for Photo Nuts and Shots: Tools and Techniques for Creative Photography Ideas
The book is not cheap but affordable and you won't find a higher quality content for that less money. I'm sure you will love the book as much as I do and it will help you to take your photography to the next level.
Enjoy tools and techniques for creative photography ideas!